Teaching English online can be a dream job for native speakers looking for a flexible means of income. The perks are fantastic: teachers are able to work remotely, be relatively independent, AND get paid to speak in English online. And with most companies providing the lesson materials for you, there's very little preparation involved, which takes away a lot of the stress that most teachers have.
There are dozens of companies out there that connect you with potential learners all over the world – all remotely, but not with equal perks. However, because the online teaching market in China closed in 2021, the competition for online English teaching jobs is high because there are more online English teachers than jobs available.
That's why we have prepared this guide. So you can not only figure out how to choose the right company to teach English online with but also understand important steps for getting the teaching job.
That, my friends, is what I'll help with.
I'll give you the run-down of the best companies for teaching English online and share the pros and cons of each one. After that, we'll go even further and share some teaching English online reviews as well as some tips for making a living out of a teaching position.
Why Should I Teach English Online while Traveling?
Have you ever wondered how to break into the digital nomad game? For years, people have asked me how to make money online without technical computer skills, crypto trading, blogging, or freelance work.
Now, one of my go-to answers is, have you ever thought about teaching English online while traveling? It's easy – all you have to do is pick a good location to start your digital nomad career, bring your laptop (of course), make sure you have a reliable internet connection and get the ball rolling!
Online teaching jobs are a consistent, accessible means for backpackers and nomads to earn a digital income, but since the Chinese market closed in 2021, the competition is fierce. However, things have certainly settled down and online English teaching jobs have started to pop up again, opening new doors to native English speakers wanting to work from, well, anywhere with a solid internet connection.
The best part? Depending on the company you work for, you can choose a schedule and commitment level that aligns with your own needs.
You can work anywhere from 6 hours to 60 hours a week, depending on what suits YOU. Remember though, most companies require at least a minimum of 6-8 peak hours, which means 6pm-10pm on weekdays or weekends. If you think you can make that, this is the right job for you.
The salary is also quite competitive. Depending on the company you choose and your level of experience, finding work teaching English can earn a pretty penny.
Really it all comes down to choosing the best company to teach English online with that can support you and allow you to live the best life possible.

Unlock Our GREATEST Travel Secrets!
Sign up for our newsletter and get the best travel tips delivered right to your inbox.
How to Teach English Online
The big question you should ask yourself is not "How can I teach English online?" but rather, "How can I become an online English teacher and make a decent online income?" The answer to that is largely based on your qualifications and if you have prior teaching experience.
Another question you may be asking yourself is "Can I get a job teaching English online without a degree?"
I'll be honest with you. If you want to start teaching English without a degree – online or offline – and at a moment's notice, it's possible, but you won't be setting yourself up for success. Sometimes, it's more than just getting paid to speak English online.
Generally speaking, you can get an online ESL job without a degree, but nearly all companies require you to have a TEFL certificate or at least be on the path to getting one.
The quality of work and pay you will receive will (always) be a reflection of your effort.
To land a decent online English teaching job, you will need to have some or all of the following qualities:
Be a native English speaker (some companies seem to prefer native North American speakers and some companies do not accept South Africa as a native speaking country – you just need to do your research on this).
Have a bachelor degree in any field (not always obligatory).
A TEFL Certificate (again, not always obligatory but 120-Hours is preferred).
Some experience as a tutor, mentor, or teacher.
A fast internet connection and the right equipment. For example, to teach English online via Skype or other video streaming services, you'll need a webcam.
A headset. Most companies require you to wear a headset as it eliminates background noise.
A quiet space with a plain wall as a background, or if you are teaching young learners some happy pictures on the wall goes a long way.
Props. Some companies require you to have props, whether it's flashcards, toys, a whiteboard, pictures etc
Patience, flexibility, and the ability to roll with the ups and downs and realities of being an online tutor. (I will expand upon what those are later.)
These are just some of the basic requirements that will be demanded of you from the best online teaching companies. Some of them are really easy boxes to tick, others you might not have. But don't worry, I have found that the more experienced you are, the better your pay will be and the more options you will have.
Is Teaching English Online without a Degree possible?
Many people these days have at least a Bachelors degree and aren't able (or no longer want) to do anything with it. Scoring an online ESL job is your chance to make that degree useful (even if it's in a field completely unrelated to teaching English). If you have a degree, don't hesitate to include that fact in your application. Even if your degree is in Pet Psychology or Astrophysics, just having a degree is enough.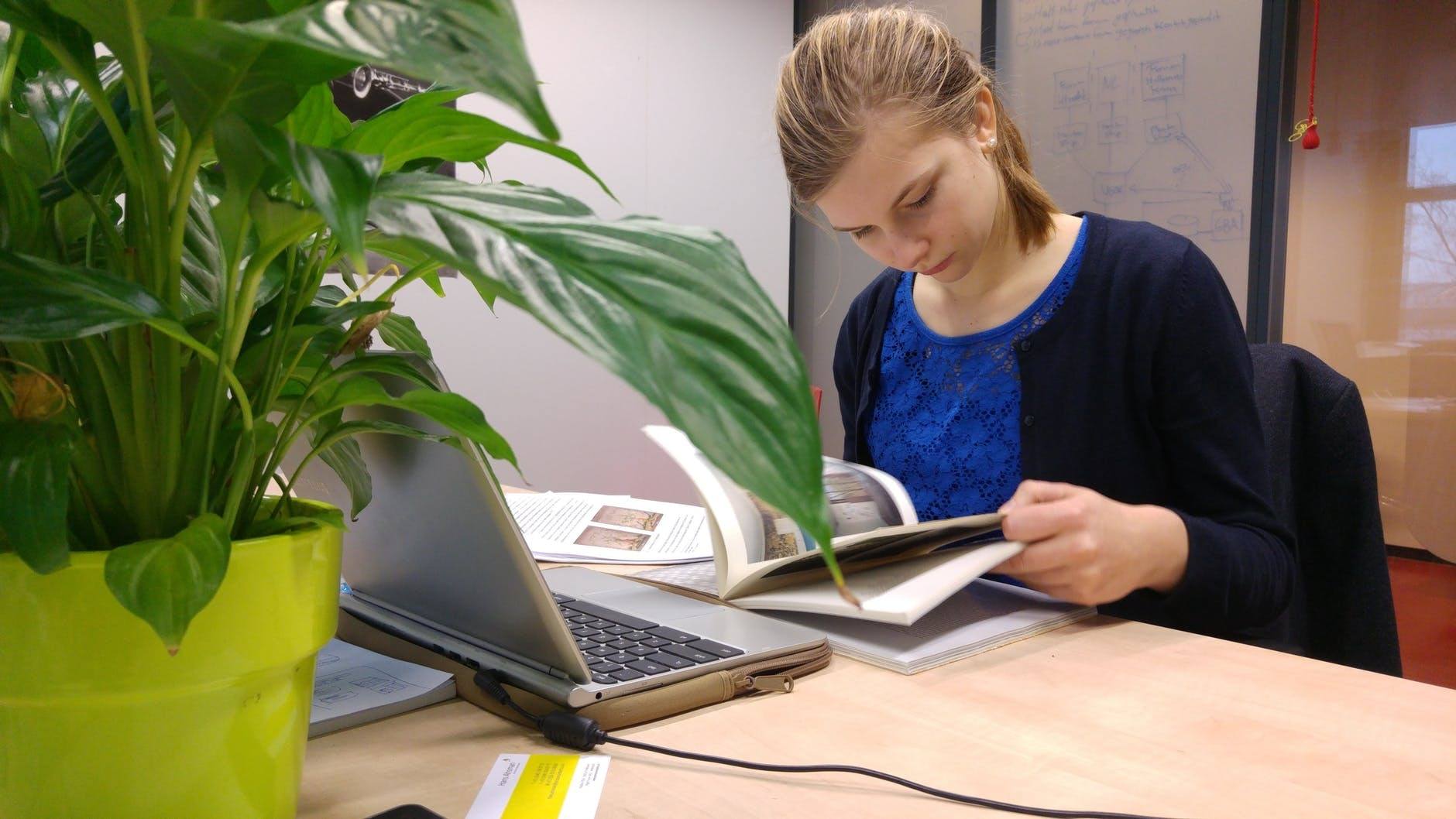 If you do have a teaching license, you can earn a lot more by tutoring online, and not necessarily in English. There is also a demand for online teachers to teach Science or Maths. These positions generally require you to show a university-level understanding of the subject, so if you do have that Astrophysics degree, don't let it go to waste!
That being said, you can still teach English online with no experience, zero degrees, and no TEFL certificate. If you are a native English speaker, the odds are already in your favor. For the best jobs teaching English online though, you are going to want some sort of certification at least, like a TEFL certificate.
By now you might be wondering what is a TEFL certificate and how do I get one? Let's take a look at the TEFL certification and what it can do for your aspiring English teaching career…
What the Hell is TEFL?
TEFL is an acronym that stands for Teaching English as a Foreign Language. There are dozens of online TEFL courses available, so you need to make sure you choose a reputable (and affordable) company.
There are a bunch of phony TEFL companies out there, and believe me, these companies are aware of them, so don't try and buy a certificate online without doing the work.
Obtaining your TEFL certificate requires a small investment. That said, a TEFL course will provide you with the crucial skills you need to actually begin to teach English online. Plus, the money you put into getting certified will certainly pay off the day you start teaching English online with a good company.
There are several types of TEFL courses available; some involve face-to-face teaching time and others are completely online. If you're already traveling, then I recommend choosing an online TEFL course over a face-to-face course; it's easier to work on your qualification online in your spare time.
That being said, if you do want to eventually teach in a classroom, a face-to-face TEFL certification will put you in good stead. If you're someone who is thinking of teaching both online and in-person, then this would be a better avenue to go down.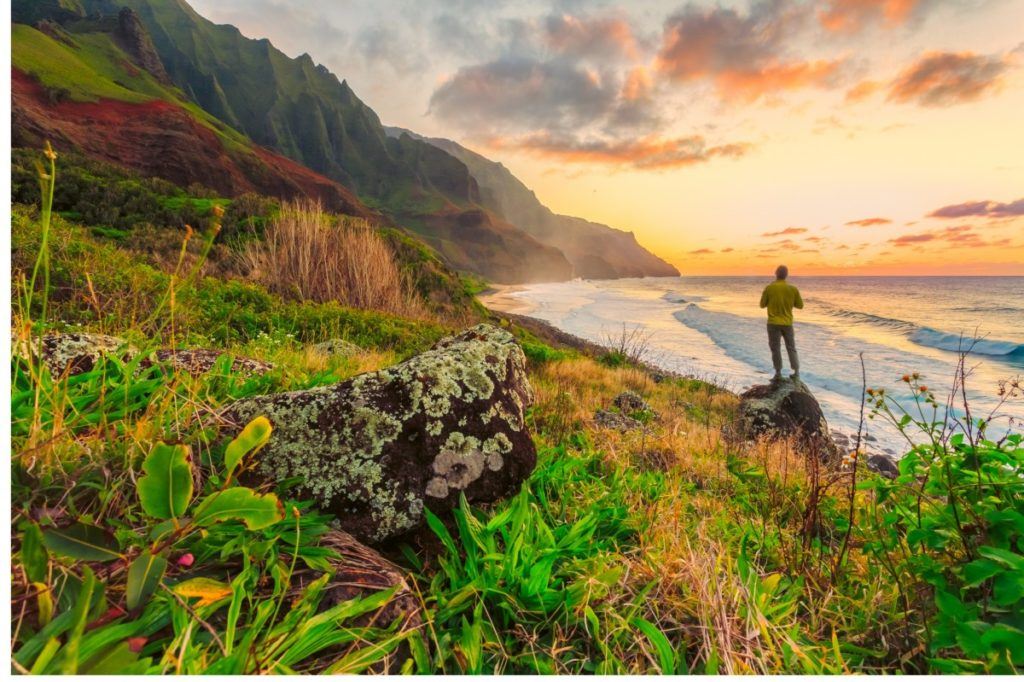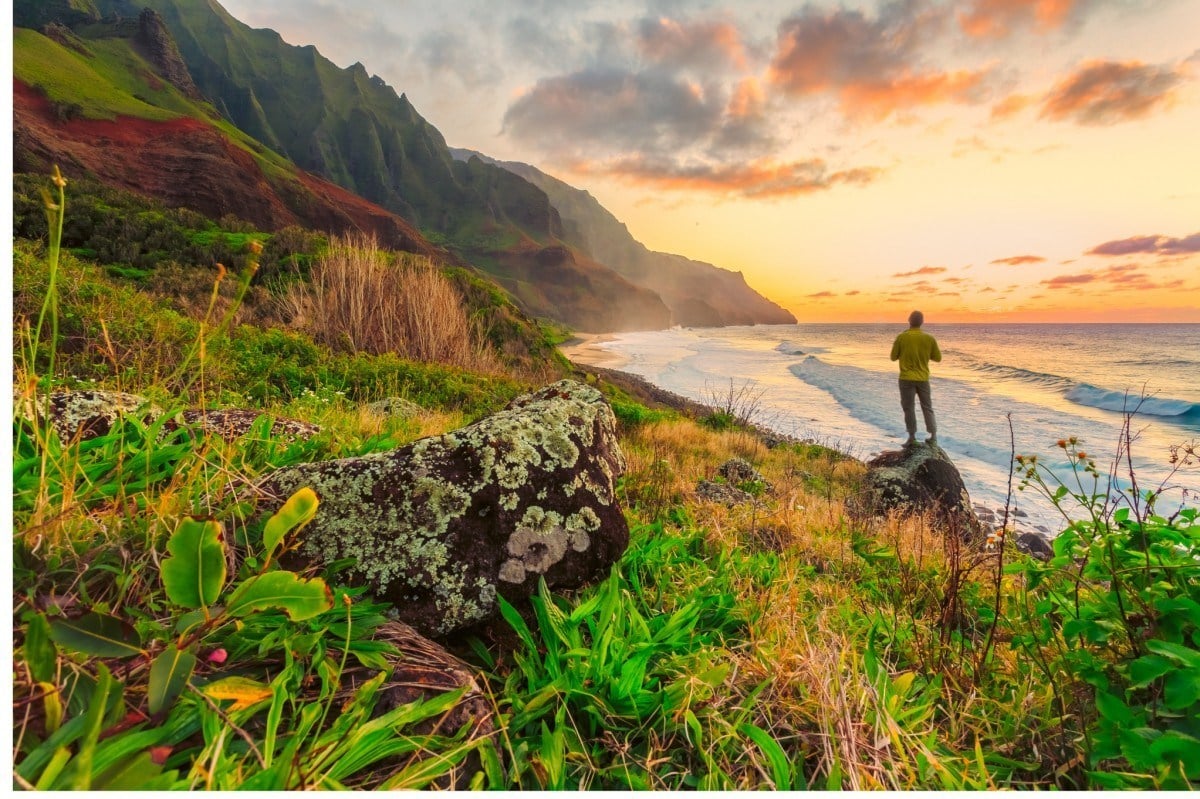 One of the best ways to obtain your online TEFL certificate is with MyTefl. It's fast, easy, and one of the cheapest options. MyTefl offers a whole range of online TEFL courses ranging from basic certifications to business, and even courses for non-native English speakers – perfect for those non-Native speakers with fluent levels of English that want to find a job to teach English online.
For those who are looking to teach online and in-person, there is a 140 Hour TEFL course that covers everything you need to teach in a classroom, plus an additional 20 hours that focuses specifically on teaching online. If you can afford it, this will definitely boost your ESL career.
Plus, The Broke Backpacker readers receive a 50% discount for online TEFL courses through MyTefl by using the code PACK50.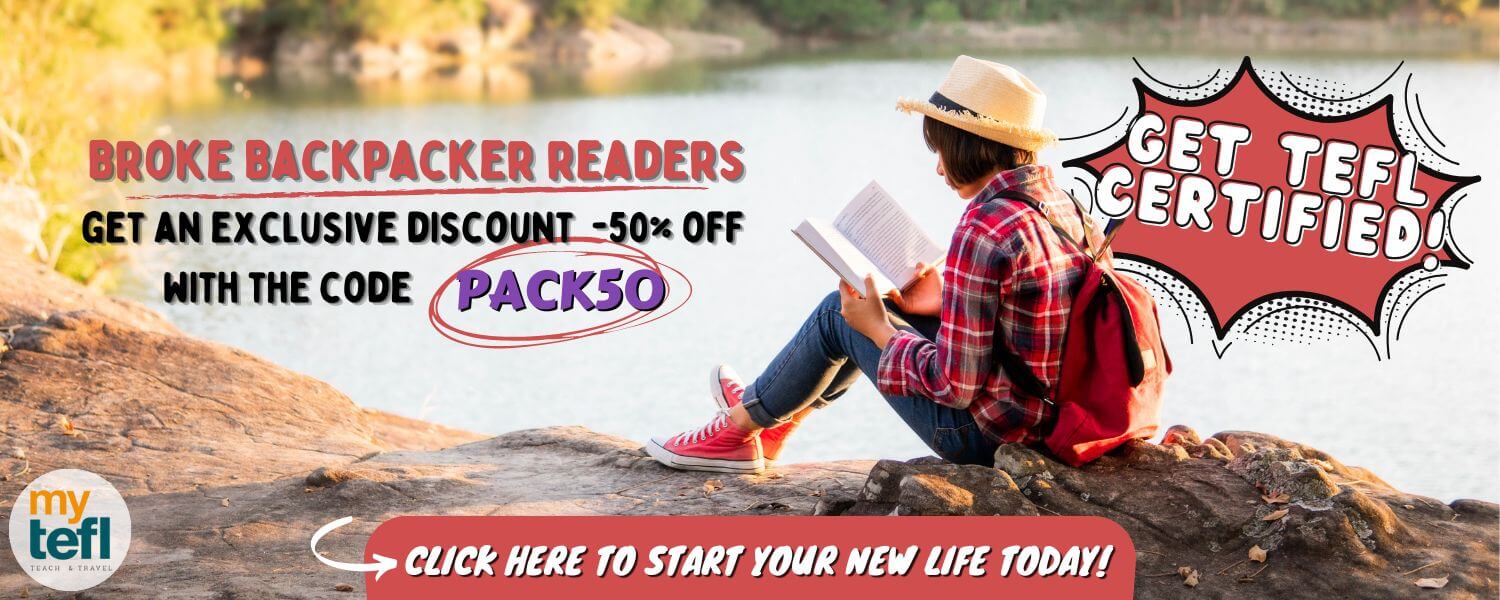 If you are serious about becoming an English tutor, then you should absolutely obtain at least a 120-Hour TEFL certification.
Where to Look for an Online Job Teaching English
There are a ton of companies offering online teaching jobs. Many online English teachings companies offer competitive pay and a variety of other benefits. On the other hand, many companies are shit, pay you an insulting wage, and not worth your time. Even if you have no teaching experience, know your worth and don't settle.
One company that stands tall above most of the competition is Cambly. Cambly is a company that enables native speakers to teach English online to students from all over the world. With Cambly, you get to teach adult students and if you want to teach young learners, you can also work for CamblyKids, which is a little higher in pay. They are a serious company committed to both their students' learning as well as fair pay and treatment for foreign teachers.
Note that you must be a Native Speaker to work with Cambly. However, you do not need a degree or TEFL certification.
Another reputable company worth noting is iTalki. iTalki provides international learning experiences to English language learners of all ages and abilities. While Cambly is great for first-time teachers, iTalki is great because it allows more experienced teachers to build their own courses, and iTalki handles the marketing and getting you students. Win win! You can earn around $16-$19USD per hour, depending on your experience.
Below, I explore Cambly and iTalki with a quick review discussing what I like and what I don't like about working for the two companies. I'll also have a deeper look at a few other companies that you can work with teaching English online.
Best Companies for Teaching English Online – Reviews
In order to hold your own English classes, you're going to have to find a good company that meets your own needs. Let's take a look at a few of the best online English teaching companies so you can make an informed decision about which to pursue.
If you are a beginner to freelance teaching online, I recommend applying to several of the top companies listed. The more you put yourself out there, the more likely you are to land a sweet gig.
1. Cambly Review – The Best Company for Teaching English Online
As of now, Cambly is probably the best company to teach English online for many reasons. If you are serious about teaching English online while traveling, landing a job with Cambly could certainly set you on the right path.
While you do have a contract, there is no determined length, giving you the flexibility to come and go as you please in a world of digital nomad instability. As long as you have a decent laptop and internet connection, you have the opportunity to make decent money if you stay with the company, gain experience, and produce good results with your students.
As an independent contractor, your payment is calculated on a per-minute basis as they do not have a set limit for class lengths. The minimum salary for teaching English online with Cambly is around $10.20 per hour, or $12,00 per hour for CamblyKids + incentives.
While Cambly doesn't provide pay rises like other companies, it does provide you with lesson materials and you will find your schedule filling up quicker than other companies. Often, you have the opportunity to earn more money through incentives such as the referral programme.
As well as handling the scheduling, they also deal with the students' parents' comments/questions/concerns on the other end so you don't have to talk to any parents. If you have ever taught English as a foreign language anywhere in the world, you know how awesome the prospect of not having to interact with students' parents is.
The Broke Backpacker readers looking to learn English online can enjoy a discount when signing up for Cambly by using the code: thebrokebackpacker.
What I like about Cambly:
Potential to earn $10.20/hour.
Cambly staff plans your lessons.
Can work from anywhere.
No fixed contract, you can leave anytime.
One-on-one classes.
You can have regular students.
You can teach adults and kids.
Bonuses and referral pay.
You don't have to interact with the students' parents.
You don't need a TEFl certificate or bachelor's degree
Cambly is professional, organized, and generally seems to have their shit together.
What I don't like about Cambly
The pay isn't great. It is a good start for first-time teachers needing experience.
They don't do pay-rises.
The contract can be too flexible for people who need more stability.
Students can end a class at any time, and when you are being paid per minute, if they end after 5 you have lost money.
No guarentee on classes or full schedules.
The lesson materials are more of a guideline, you are expected to have conversation.
Many teachers have expressed that students can behave inappropriately or be rude to teachers.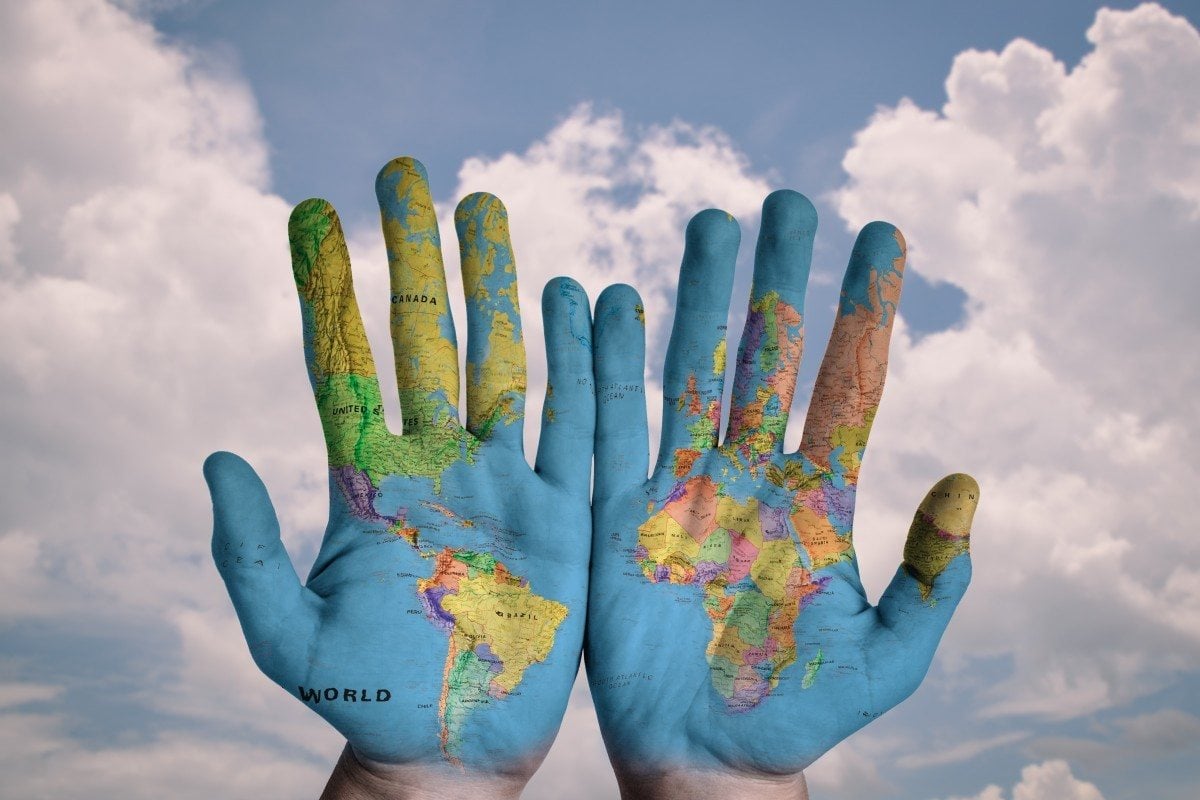 Is This the Best Travel Pack EVER???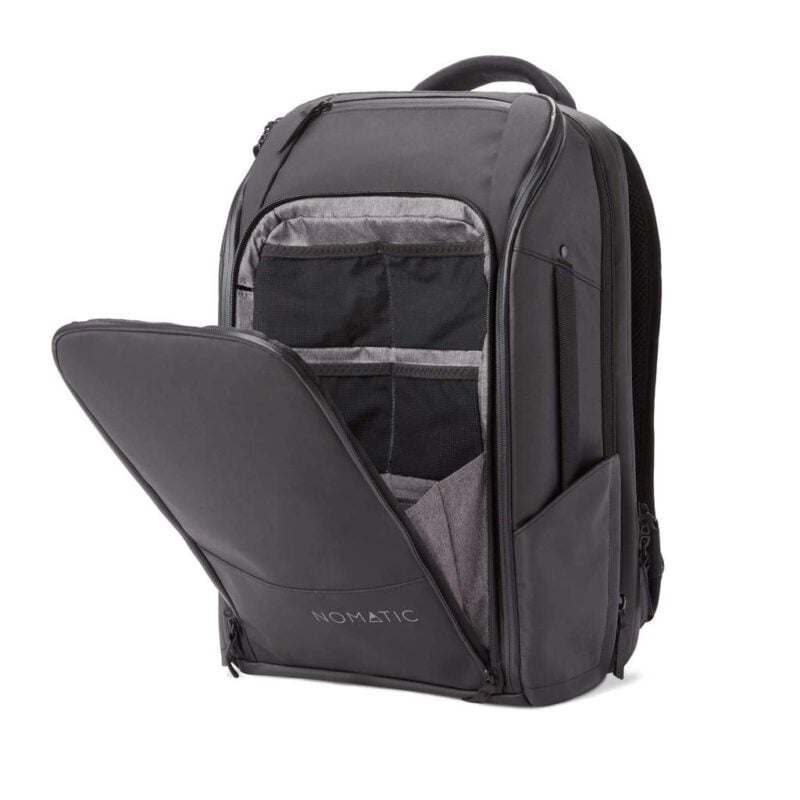 2. iTalki Review – Our Second Favorite Online English Teaching Job
iTalki is another online language learning platform for adult students and young learners around the world that has a good reputation shows professionalism, and overall good teacher experience. They also have teachers of all languages, so if English isn't your first language, you can also teach your native language via iTalki.
One of the things I love about iTalki is that if you are an experienced teacher with all the credentials, you can sign up as a professional teacher and earn more. If you're more of a casual teacher, you don't have much experience, and no credentials, you can be a community tutor. Professional teachers are required to teach specific skills-based classes, whereas community tutors are expected to provide conversation practice.
Professional teachers earn more, averaging around $10-$80 per lesson, whereas community tutors can earn $5-$80 per hour. Not bad, not bad. A few lessons a week will definitely get you far in a place like Thailand or Indonesia!
iTalki also allows you to create your own courses and lessons, which for experienced teachers is definitely a win. Sometimes the online teaching companies who provide courses have really awful materials and students are expected to parrot the word 'pineapple' back at you for 30 minutes. If you're serious about teaching online, this will do your head in.
But while you prepare your own lessons, iTalki will handle the scheduling and put your profile in touch with prospective students.
The default class length for iTalki is 60 minutes, which means if you can hold your students' focus for that long and they learn, they will keep coming back, meaning you get:
Satisfaction
Solid reviews
More potential students.
It's a win-win!
What I like about iTalki
Competitive salary.
The ability to plan your own lessons and create courses.
Accepts applicants from all over the world.
Lesson packages are valid for 6 months, so once you have students you have stable income.
You can get regular students.
You can teach other languages, not just English.
Options for non-Natives and those without a degree.
Experienced teachers can become professional teachers for iTalki.
Flexible schedules.
What I don't like about iTalki
Teachers are reviewed and a bad review can affect you getting booked again.
You have to prepare your own materials which is daunting for new teachers.
It takes time to build up a schedule. You have to do some marketing of yourself.
Payment only once a month.
They hire a lot of non-Natives who are not experienced teachers, which gives the good teachers a bad reputation.
3. LatinHire Review – For Spanish-Speaking Online English Teachers All Around the World
If you have a basic level of Spanish-speaking ability, you could be a great fit for LatinHire. What's also great about LatinHire is that you don't have to teach ESL online, you can also teach Science and Maths if you want to.
LatinHire caters to Latino students based in Mexico, Central America, South America, and the Caribbean. They can be adults or children of all abilities. Because you are teaching students who might have very low-level English abilities, online teachers are required to have basic Spanish language skills.
The base pay is around $13 per hour once you have completed 250 hours. You are required to work a minimum of 16 hours per month and you can work a maximum of 48 hours per week, which is great for those who want more flexibility.
You can be logged into the LatinHire platform from anywhere in the world. All you need is a steady internet connection and you are good to go.
TOP TIP: Don't use your real name in your profile to avoid unwanted attention from creepy dudes in random countries!
What I like about LatinHire
You get to choose your own schedule 100%.
Only requires a bachelors degree or teaching certificate (not both).
You can teach other subjects, not just English.
Can teach ESL online with no experience.
Training is provided.
All materials are provided.
Flexible teaching schedule.
Easy to be booked for classes.
What I don't like about LatinHire
You have to prove yourself to get the base pay of $13 per hour.
Only for those who speak Elementary-level Spanish.
You must commit to 16 hours per month.
Not currently hiring applicants from the US or Canada.
Students are based in Latin America, which can be challenging given the time difference.
No creativity with the lesson materials.
4. Englishhunt Review – Great for Teaching English Online to Korean Students
Englishhunt is another reputable learning platform connecting English teachers online with students (of all age groups).
All live video class instructors must hold a four-year degree and may require a teaching or substitute-teaching certificate (current or expired).
Classes are short, like really short. Classes/lectures range from 10-20 minutes! Depending on your flexibility, Englishhunt offers shifts of varying length from 1 to six hours in duration.
While you will be teaching kids occasionally, you'll more often be teaching English online to Korean students who are studying business.
What I like about Englishhunt
Not location specific (you can work from anywhere).
Pay is by direct deposit (need an American bank account, which I don't like).
Opportunity for advancement/better pay.
Applicants don't need to speak a foreign language.
Somewhat flexible schedule.
Instructor training provided.
Decent pay.
What I don't like about Englishhunt
See bank account comment above.
Teachers need to be from the USA.
If you have a Mac computer, you can't run Englishhunt's software!
The hours can be weird depending on where you live.
Bachelors degree required to be a video class teacher (paid better than a phone class teacher).
The Future of the SIM Card is HERE!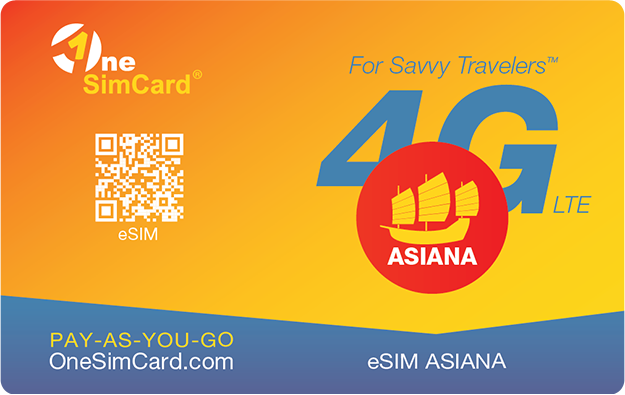 A new country, a new contract, a new piece of plastic – booooring. Instead, buy an eSIM!
An eSIM works just like an app: you buy it, you download it, and BOOM! You're connected. It's just that easy.
Is your phone eSIM ready? Read about how e-Sims work or click below to see one of the top eSIM providers on the market and ditch the plastic.
Buy an eSIM!
5. LikeShuo Review – Another Solid Online English Tutoring Job for Adults
While it is no longer possible to teach children in China, it is possible to teach adults. LikeShuo is another big player on the online English teaching block where native-English teachers can earn a lot of money.
With LikeShuo, you get the chance to teach English online to Chinese adult students in a fixed curriculum style. Whether you are having a general conversation or teaching business English, Like Shuo gives you the opportunity to earn up to $16-$25 per hour.
However, the style is more formal for the teacher and students can leave you a class rating, which affects your pay. You get to teach one-on-one classes and group classes and the lesson materials are all provided for you.
Each class is 45-50 minutes long and you need to provide feedback to each student. Another bonus? LikeShuo tries to keep you paired with the same students. You will have new students from time to time but at least they try to keep student and teacher together (as it should be).
What I like about LikeShuo
You get to teach regular students.
No lesson planning necessary.
You have a mentor who looks after all the booking and complaints (if there are any!).
The staff are very supportive, helpful, and keen for you to succeed.
They provide bonuses for teachers who perform well each month.
High pay! Rates for teachers: $16-25/hr.
Speaking Chinese is not required.
They provide training.
What I don't like about LikeShuo
You are not guaranteed classes.
There are strict penalties in place for lateness and if you get a bad review.
You must live and be from UK, USA, Australia, Canada, New Zealand to be a teacher with LikeShuo.
Must commit to 30 hours per month.
6. EF English First Review – A Company for Primarily Teaching English Online to Adults
Looking for a formal online English teaching job that works primarily with adults… abroad? EF English First is just that. If you are interested in teaching kids online, EF English First offers that too.
This US-based company claims to use cutting-edge technology combined with custom-made materials for online learning to help students and teachers get the most out of each session.
EF English First was one of the companies affected by the 2021 restrictions in China, but as they also have students in Russia and Indonesia, they are still operating. However, as their student base is restricted to these countries, they are much more competitive when it comes to hiring online ESL teachers.
What I like about EF English First
Competitive pay.
If you choose to teach from their offices, there are many perks including annual flight allowances, advanced salary, and even health insurance!
Professional.
Course materials provided.
An excellent opportunity to advance your online English teaching career.
Teach both adults and children.
People from most English-speaking countries can apply.
What I don't like about EF English First
You have to live in the UK or US to just teach English online from home.
Bachelor degree required.
TEFL certificate required (sponsorship available).
Doesn't work for the casual nomad looking for a part-time online English teaching job.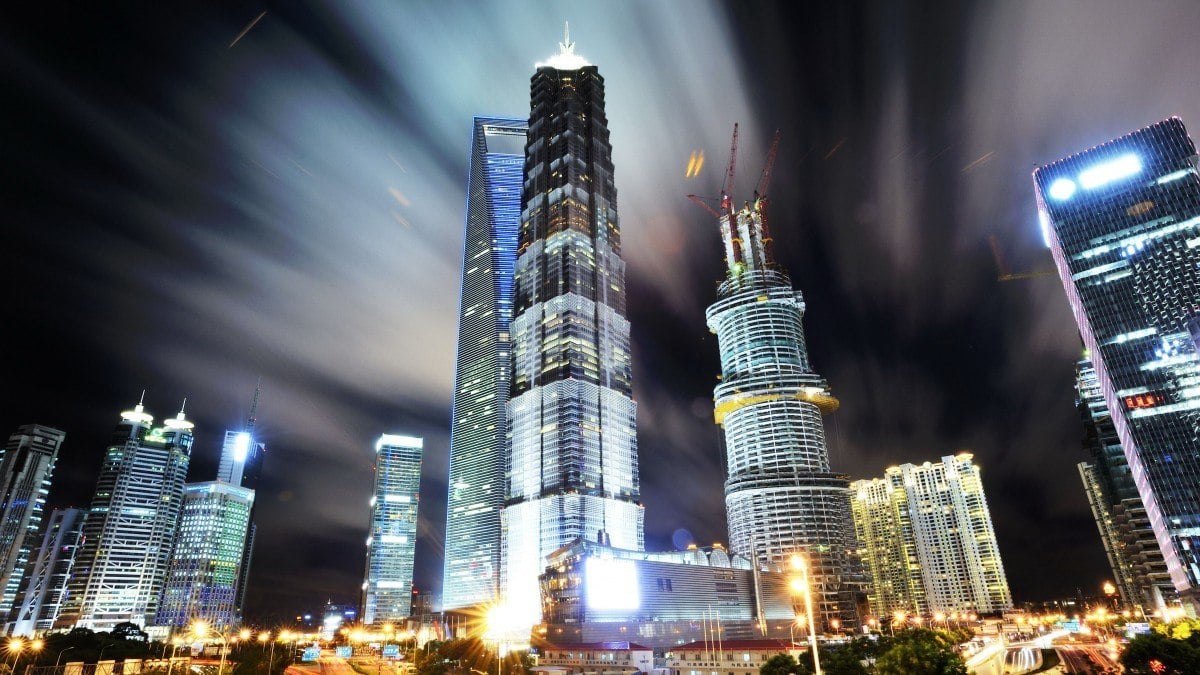 The UK-based TwoSigmas company allows you to work from anywhere, teaching to international students (kids age 5-12) from all over the world.
They work directly with schools to ensure that all of your lesson plans are sorted and prepared. The pay depends upon which school you will be working with.
Generally, the pay with TwoSigmas is between $15-23/hr. If you have more experience teaching then you will likely be able to command a higher hourly rate.
What I like about TwoSigmas
Comprehensive training.
Room for career advancement (if that's your thing).
Great pay (especially if you have experience).
A large community of teachers.
No need to create your own lesson plans.
Can work from anywhere as long as your schedule aligns with required teaching hours (North America mornings and evenings).
What I don't like about TwoSigmas
Bachelor degree required.
Probably won't hire you without experience.
TEFL certificate required.
Must have a "neutral" North American accent (even though the company is based in the UK! Ha!).
Lengthy hiring process.
8. Engoo Review – A Good Start for Newbies
Engoo is another company that is becoming a very popular way of teaching online. Potential teachers are raving about this service because they have a high booking rate, it's flexible, and is not limited to one age group. At Engoo, you will be teaching students in Japan using lesson materials provided by the company.
The pay for Engoo isn't the highest on the market, but it is a good salary for first-time online ESL teachers. They pay $5 per 25-minute lesson or $10 per hour. For non-Native speakers, the pay is reportedly less. However, they do offer a $50 bonus if you complete 160 classes within a certain time frame.
The best thing about Engoo is there are no real requirements to teach for them – you simply need to be proficient. in English (a given, but not Native-level) and be over the age of 18, have reliable internet and a headset. That's it! No degree, not TEFL, no formal documentation.
TOP TIP: Sell your classes for low rates at first and then periodically raise them. Don't worry about people dropping out – the ones that like you will pay.
What I like about Engoo
Ability to make your own flexible schedules.
Anyone can teach for them as long as they are proficient in English.
No degree or TEFL Cert requred.
Lesson materials are provided.
Reportedly high booking rate.
Wide range of age groups.
What I Don't Like About Engoo
The salary isn't high for experienced teachers.
There have been reports of students being rude to teachers (not all of them, some).
Penalties for cancelling lessons.
Some students seem uninterested.
Interface changes often after updates.
Palfish is another platform that is trying to compete with behemoths like Cambly and iTalki. This company is making a lot of waves though and is actually a company that has given a lot of teachers great success with being booked.
Palfish offers a very similar experience to Cambly in that you can teach conversation classes to adults and follow a set curriculum for teaching kids. Like Cambly, students can call you if you go online. You can set your rate and open your schedule at timeslots that work for you.
If you decide to teach Palfish kids, you will be required to teach regular classes with those students for up to 60 classes, which is great if you want stability. The pay scale for kid's courses is from around $8-$11.50 per 25-minute class, depending on experience.
As well as this, the materials provided are very fun and you get to teach students 1 on 1, which allows you to build a good rapport and get to know them.
What I Like about Palfish
Decent salary for Kids courses.
Quick application process.
Can teach adults and children.
Classes are 25 minutes long and have a 5-minute buffer.
1-1 teaching.
Curriculums and materials provided.
Can teach via an iPad.
What I Don't Like About Palfish
Lots of teachers and not enough students, some marketing yourself is required to beat the competition.
The system is a bit buggy and no real support.
Penalties for being late, which may mean reductions in pay.
If you're 2 minutes late, your class is given to someone else.
Not easy to take time off.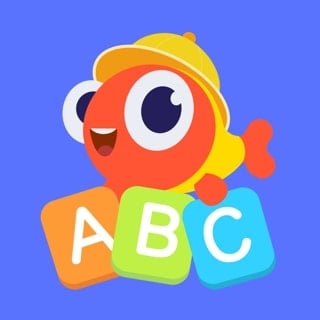 Preply offers a lot of what its competitors do – good wages, flexible schedules, and the ability to design your own courses. As well as this, it is also quite easy to set yourself up as a tutor. Because you set your own wage, schedule and what you want to tutor (you can tutor other languages, not just English) you have total flexibility.
However, Preply does have its downsides. In order to be booked, you have to do a lot of marketing yourself. You also will need to offer free trial lessons to gain students, which of course is time you are not being paid for.
As a platform that basically just introduces you to students, you have to pay them a commission. The commission is 33%, but this is dropped to 25% after you teach 100 hours.
Although you are required to set your own schedule and fees, they do provide you with some materials. The materials are a good starting point, but to beat the competition, I would recommend expanding on them and building your own.
What I Like about Preply
You can teach any language, not just English.
Flexible schedules.
Students seem genuinely interested.
Preply has a good reputation as a company and has a lot of students.
Materials are provided.
What I Don't Like About Preply
You need to market yourself to get students.
The materials are a little behind on the times and need improving on.
High commission rate.
No guaranteed bookings.
Unpaid trial lessons.
How to Choose the Best Online English Teaching Companies
Choosing the right company to work for comes down to your preferences and whether you feel comfortable creating your own materials or not, so you'll need to ask yourself some questions.
What is your English teaching experience? What motivates you to gain experience in freelance teaching? Will your online English tutoring job be a side hustle to supplement beer money, a long-term career you want to develop, or something in-between?
For newbies looking to snag a solid online English teaching gig, my advice is to apply to some, if not all, of the companies on my list and see what comes of it. I realize that some may be limited if they don't have a Bachelors degree and/or are not from the USA (as many of the top companies featured in this article require one or both).
In any case, it never hurts to try. Put yourself out there. Try to teach English online with actual honesty and see what comes of it. You never know where an opportunity may lead unless you try.
If you have done a TEFL course, especially the 140 Hour MyTEFL course, you will have all the skills you need to be able to teach online and face-to-face. So go ahead and give it a try!

Our GREATEST Travel Secrets…
Pop your email here & get the original Broke Backpacker Bible for FREE.
What is an Online English Teacher's Salary?
Here is a reality check: you will never get rich teaching English online to Japanese students or anyone for that matter. The average online English teacher's salary is not extraordinary so you will have to hustle to succeed.
Every company offers different compensation rates. Like any other job, the pay is determined by your own teaching experience and qualifications. Moreover, another determining factor will be the company's location, and which country the students you teach are based in.
Hourly Pay vs By-the-Minute Pay
In some cases, you will be paid per minute. By-the-minute rates, for example, could look something like 10-20¢ per minute. That's not great, but it's not awful either.
Hourly rates are the next compensation tier. Depending on your experience, the company, and your tenure, your hourly rate can be between $10-$25 per hour. If you are a good teacher with experience, good references, and reputation, certifications, etc, then you can really earn decent pay for teaching English online!
If you can be consistently making $20-25 per hour working 20-30 hours a week, well, you can live very well indeed, whilst keeping yourself happy and your adventure budget well padded.
I think hourly pay is best, as by-the-minute pay is usually for non-serious, informal "teaching" gigs that are more conversational in nature than they are professional and educational.
If you are new to teaching English online from home, it is realistic to give yourself a full year to work hard, develop skills, test the waters, and so on before you can expect high hourly wages.
If it's your first teaching job, choose to work for a company on this list that offers materials and after you feel comfortable, start looking at companies like iTalki and Preply where you can set your own rate and design your own courses. If you can make your own curriculum, you can set a higher rate and earn more.
Remember, $20 per hour+ is the GOLDEN wage for when using online teaching services. Only experienced, dedicated teachers can command such an hourly rate, at least that's what my experience has found. I'd say the average pay for most new (or newish) teachers is around $10-15 per hour.
Some companies will opt to pay you via direct bank transfer once or twice a month, whilst others will pay you via a service like PayPal. Remember, PayPal deducts a transaction fee, so if you can get paid another way, do try to go for that.
To summarise, it is possible to earn a good salary if you teach English online but it takes dedication!
FAQs about Teaching English Online
Final Thoughts on Teaching English Online
Well amigos, there you have it. You are now in possession of ten awesome companies that offer up excellent opportunities to those wanting to teach English online.
The internet has truly opened up a world of possibilities to backpackers looking to develop a digital nomad career. Teaching English online might just be one of the most exciting opportunities of them all.
You get to connect with people from different cultures, both while you're traveling and from the students you teach. Make a positive impact on the lives of your students. Learn something new about yourself. Discover the teaching skills you never knew you had!
Remember though: becoming an online English teacher isn't easy and this isn't just you getting paid to speak in English online.
But is it rewarding? Hell yes, it is! Furthermore, being an online teacher is a great way to make a living (or at least a partial living) while you fully embrace the digital nomad/backpacker lifestyle in some far-flung corner of our beautiful planet.
When done right, teaching English online might just be the perfect job for travelers and digital nomads to receive a relatively consistent monthly income and make an impact on the world around them.
Remember, be sure to check out Cambly, which is (in our opinion) the best company for teaching English online!
I wish you the best of luck on your journey. Let us know how it goes by sharing your story in the comment section below!
---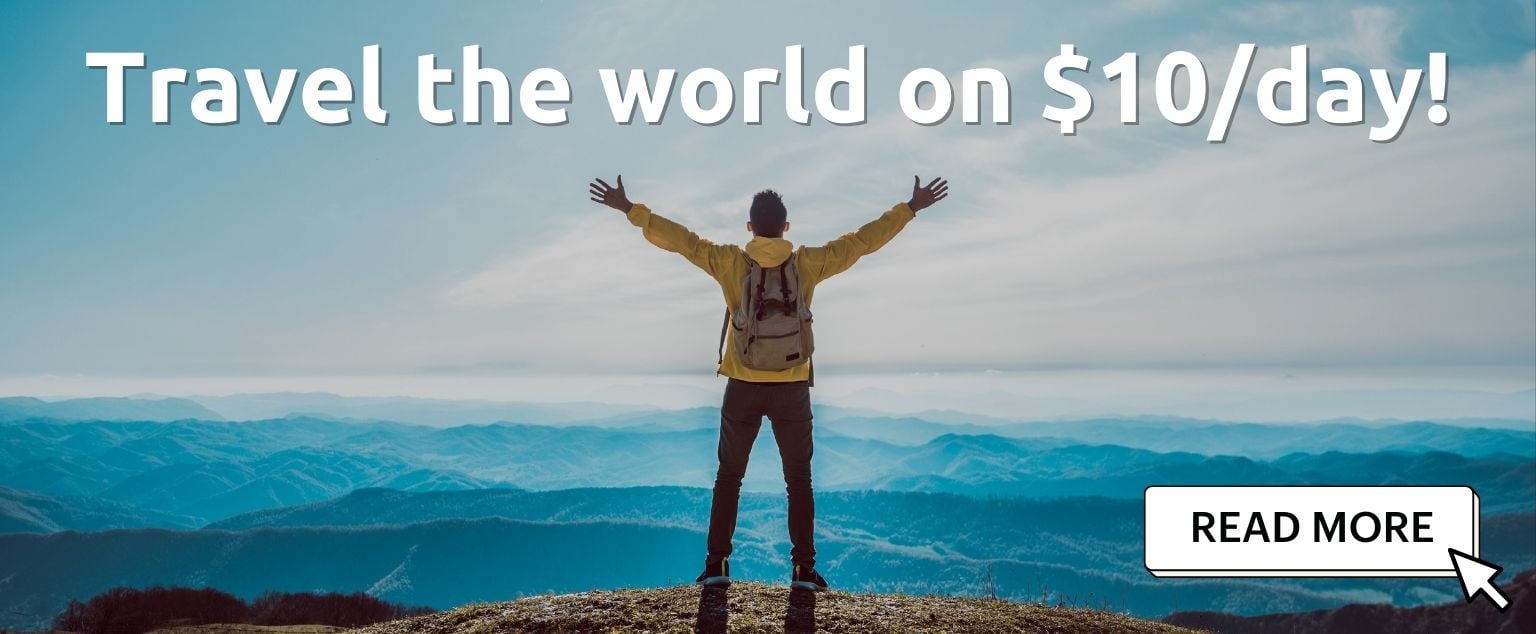 And for transparency's sake, please know that some of the links in our content are affiliate links. That means that if you book your accommodation, buy your gear, or sort your insurance through our link, we earn a small commission (at no extra cost to you). That said, we only link to the gear we trust and never recommend services we don't believe are up to scratch. Again, thank you!