London is one of the most multicultral cities in the world, and as such, it offers a diverse culinary scene to anyone who visits here. The food in London is a wonderful mixture of traditions, culture, and flavour.
From the bustling streets of Camden Market, to the cultural diversity of the street food of Spitalfields and Brick Lane, there's always something delicious hiding around every corner of England's capital.
There are so many options for good food in London that it can be a little overwhelming finding a place to eat. If you're short on time, or if you're a big foodie fan and simply want to find all of the best spots quickly, London foodie tours are the way to go.
In this article, we will uncover some of the best food tours in London. These are the cream of the crop, run by local foodies who know the city better than anyone. These tours help you uncover hidden gems and get to know London from a new angle.

Unlock Our GREATEST Travel Secrets!
Sign up for our newsletter and get the best travel tips delivered right to your inbox.
Food in London – Why is it Special?
English food gets a bit of a bad rep internationally and many people think it's just meat and potatoes. National favourites like fish and chips, pie and mash, and the glorious Roast Dinner can be labeled as bland or boring.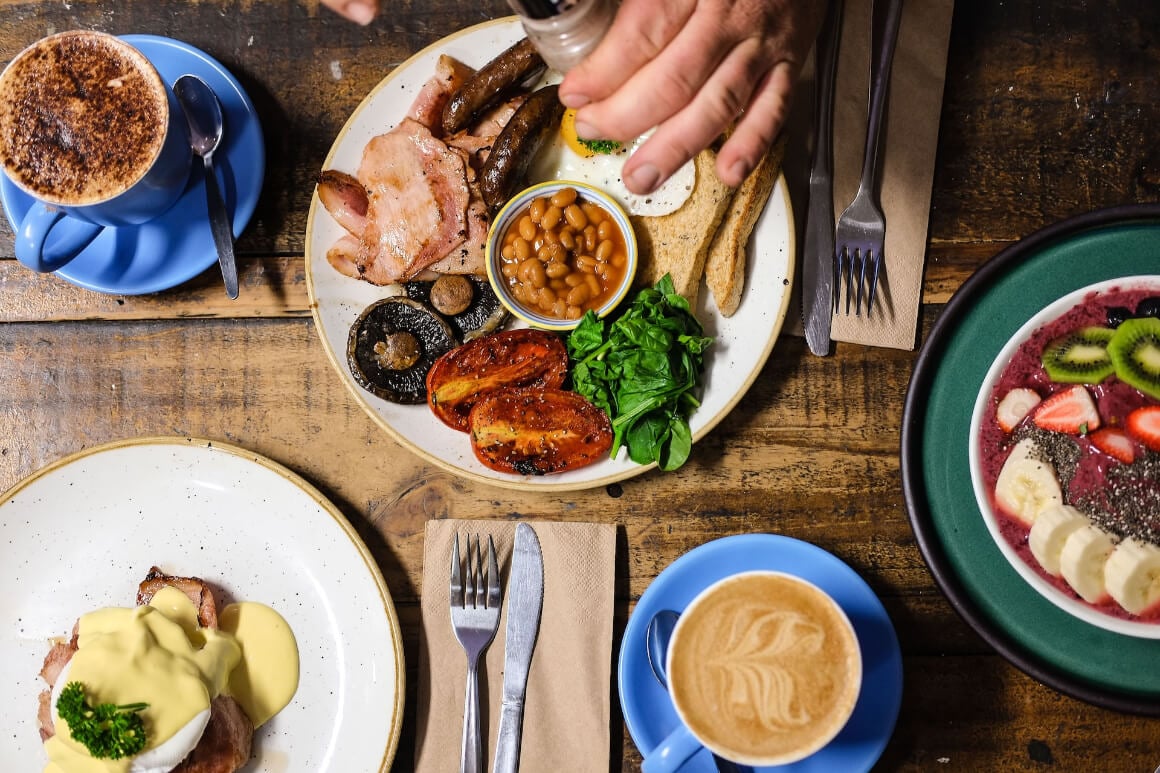 But those people have not tried real British food. If you head out of greasy spooners and to a traditional country pub, you're guaranteed to find anything but plain and boring meals. In fact, the British love desserts, and once you've had a sticky toffee pudding or apple crumble and custard, you'll never be the same again.
London in particular throws all of your preconceptions right out of the window. It's a melting pot of cuisines from all over the world, brought in by many different cultures who have immigrated here, and fused their homeland's cooking with English favourites.
Britain's unofficial national dish is even a curry – the chicken tikka masala. It's a blend of Indian origins and English add-ons to create an entirely unique dish.
There are some fantastic authentic restaurants in London, too. You can get Brazilian for breakfast, Japanese for lunch, and a Sri Lankan curry with an English Ale for dinner. All on just one street.
And of course, let's not forget the afternoon teas with scones, cream, and jam. The question shouldn't be why is London food special, but what do you add to your scone first – jam or cream? (the answer is always cream, come on).
Overall Best Food Tour
Overall Best Food Tour
The No Diet Club Tour
> Where: Covent Garden, Soho and Camden
> Includes: All food, a bottle of water (Bike hire is an extra +£4)
> Duration: 4 Hours
> Price: £55
Best Historic Pub Tour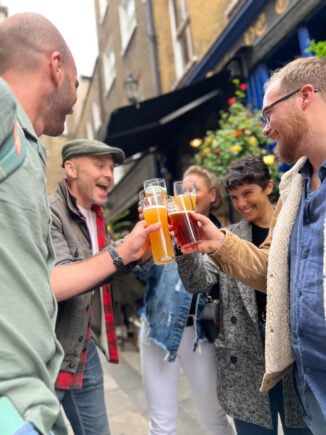 Best Historic Pub Tour
The Royal Historic Pubs Tour
> Where: St James, Soho, and Buckingham Palace
> Includes: Great storytelling (drinks not included)
> Duration: 2.5 Hours
> Price: £29
Spiciest Food Tour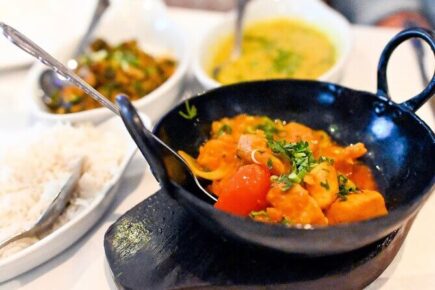 Spiciest Food Tour
Brick Lane Indian Secret Food Tour
> Where: Whitechapel, Brick Lane, Liverpool Street
> Includes: All food and drink, local guide
> Duration: 3 Hours
> Price: £76
London Foodie Neighbourhood Breakdown
Now before we get to all the fun stuff, we've also compiled some of the best eating neighbourhoods for the serious foodie looking to go exploring on their own.
When you think of great food districts in London, the central area around Covent Garden, Carnaby Street, and Soho immediately spring to mind. It holds sweet delights like the gourmet Ben's Cookies of Covent Garden, little caffeinated pick-me-ups at the Algerian Coffee Stores in Soho, and just about every South East Asian delight you can dream of along the trendy Carnaby Street.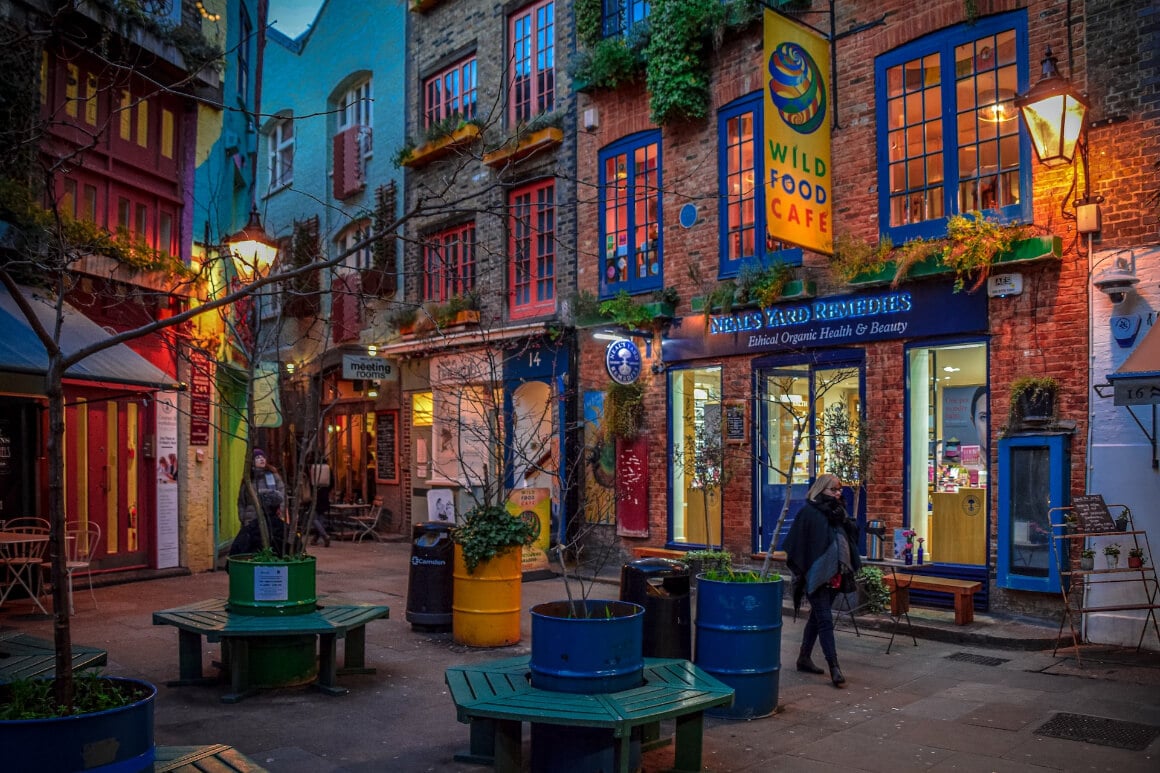 Then there's the East End food scene with hot spots like Spitalfields, Shoreditch, and Brick Lane. Here you can try some delectable salt beef bagels, get lost in the Spitalfields Market, and find gastronomical delights in the pop-up restaurants at Boxpark Shoreditch. Brick Lane is best known for its Indian influence with some of the best curries in London. Don't miss the host of food trucks in the area either.
If you haven't heard of Camden Market you're in for a treat. It's one of the busiest markets in London, jam-packed with unique shops, handicraft stalls, and international cuisine. Hunt out a Portuguese Pastel de Nata along the banks of Camden Lock, grab gyros to go, or devour a churro on your way past the Amy Winehouse Statue. There are plenty of veggie and vegan options too like the popular Mildred's Camden restaurant.
Another fantastic spot for foodies to visit in London is Brixton. You can find food from five different continents in one street in this eclectic borough. In the 1940s and 1950s many immigrants settled in Brixton as it was a cheap place to live and conveniently close to London. It's this rich multiculturalism that makes Brixton a top place to visit in London for food. Nowadays the Brixton area is full of trendy bars, delicious food from all over the world, and vintage clothing shops. Check out Pop Brixton, an assortment of shipping container bars, for live music, tasty street food, and a great night out in London.
Best Food Tours in London
So that's a quick round up of some of the best food in London and where to find it. Now comes the how.
Jump on to one of these incredible food tours to learn about local culture, a bit of history, and of course to get the inside scoop on the best spots to eat at in London.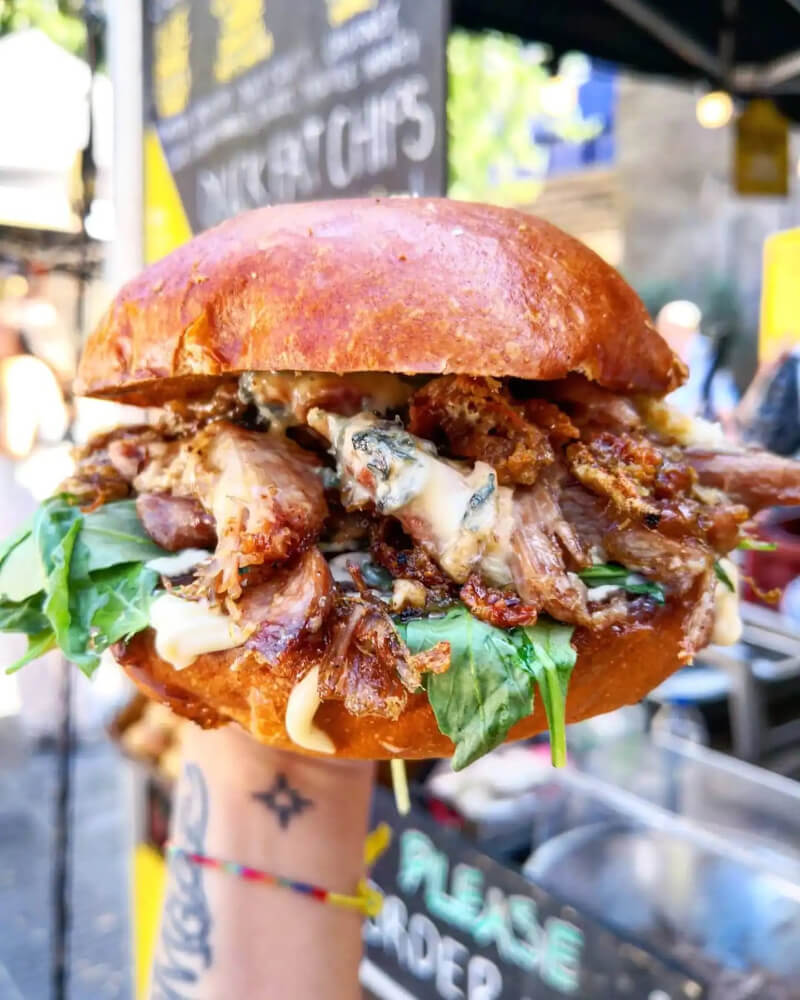 Where: Covent Garden, Soho and Camden
Duration: 4 Hours
Includes: All food, a bottle of water (Bike hire is an extra +£4)
Price: £55
So we know Covent Garden, Soho and Camden offer some truly amazing food options, but how on earth are you supposed to pick where to eat?
There are simply too many options to choose from! Wouldn't it be handy to have a local pick out their favourites?
With this friendly bike tour, you don't need to work too hard to find great places to eat in London. Just bring an empty stomach, and a disregard for calories, and they will do the rest.
You'll start cycling from South Bank, then cross the Waterloo Bridge to the iconic Covent Garden. After sampling all of the delights swing past Soho and finish up in Camden Market. Your local guides will of course be finding you some of the best hidden spots along the way.
The No Diet Club Adventure began in 2017 in London's street food markets. They celebrate the cultural diversity of London and share their passion with their guests.
AirBnB experience hosts Claudia and Anthony describe themselves as "two day-one good food fanatics", and it shows. They seem to know every local eatery, hidden gem, and tourist trap to avoid in the area.
Some food highlights of the tour are vegetarian-friendly halloumi fries, Argentinian meat, Indian dosa, English burrito, and what they claim to be the best grilled cheese in town (the verdicts still out on that one!).
They've achieved high praise with an overall grading of 4.9/5 as well as over 4000 fantastic reviews.
So grab a bike, put on some stretchy pants, and join the No Diet Club. It's time to "get thick".
Where: St James, Soho, and Buckingham Palace
Duration: 2.5 Hours
Includes: Great storytelling (drinks not included)
Price: £29
Visit four hidden historic pubs and wander past the home of the royals (Buckingham Palace), on this fantastic food and history tour of London.
Explore the winding back alleys of St. James and seek out hidden venues and tiny historic pubs that are not on any tourist map. These cosy London pubs have been the past and present hangouts of the royals, musicians, sportsmen, actors, writers, and politicians.
The host Glenn is a tour guide and entertainer, he boasts degrees in Archaeology and Anthropology and is a lover of all things London. What he doesn't know about London pubs isn't worth knowing.
Of course, Brits love a good pub, as it's the place to unwind, get all of the gossip, and have a cheeky pint after work. It's part of the national culture, and a great way to get to know the city.
Learn fun facts as you discover secret tunnels and ancient alleyways. Uncover stories of salacious scandals, romance, intrigue, and betrayal.
You will also discover the favourite haunts of local celebrities, as well as the filming locations from popular TV shows and films, like Harry Potter.
Where: Whitechapel, Brick Lane, Liverpool Street
Duration: 3 Hours
Includes: All food and drink, local guide
Price: £76
Brick Lane is well known for its vibrant and colourful food scene. This secret Indian food tour takes in the highlights of 'Curry Mile', including 10 mouth-watering dishes and two drinks.
Start at Whitechapel Gallery before exploring the heart of the city's Bangladeshi community, known to some as 'Banglatown'.
The area is famous for its many curry houses but remains off of the beaten path for many tourists visiting London. Afterward, head to Liverpool Street Station and the Old Spitalfields Market.
Sample curries, savouries, and sweets originating from India, Pakistan, and Bangladesh. The amazing local guides will help you to learn all about London's cosmopolitan culinary culture.
There's nothing bland about this London foodie tour. Highlights include sizzling tandoori dishes, soft naan bread, crisp pakoras, and plenty of vegetarian dishes too.
Experience London like a local with this value-for-money foray into the city's Indian food scene.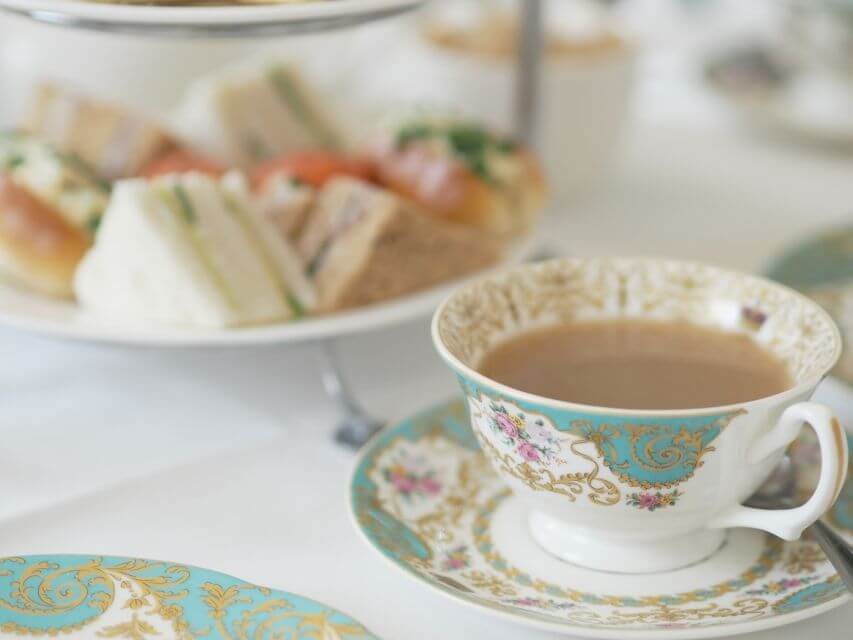 Where: Kensington Palace
Duration: 2 hours
Includes: All food and drink, guided tour of the gardens
Price: £99
What could be more British than a stroll around a royal stately garden followed by afternoon tea?
Take a walk in the beautiful Kensington Palace Gardens on a guided tour before indulging in high tea at the Kensington Palace Pavilion. Enjoy a selection of tea, sandwiches, cakes, and scones fit for a Queen, or a King.
Highlights of the tour include; learning interesting facts about the history of the royal family from a knowledgeable guide, a visit to the new Princess Diana statue, and tea overlooking the sunken garden.
Take your pick of sandwiches: choose between egg mayonnaise and cress, smoked salmon and cream cheese, roast ham and English mustard, and cucumber and fresh mint. And try traditional scones made with Welsh butter (filled with cream and jam of course) as well as afternoon tea cakes.
Kensington Palace is probably best known for being the home of members of the British royal family. Inhabitants have included Princess Diana, Prince Harry, Prince William, and Kate Middleton (along with Prince George, Prince Louis, and Princess Charlotte).
This is definitely not how the average Londoner lives, but it is a great way to see a completely different side of the city and learn a little about the monarchy.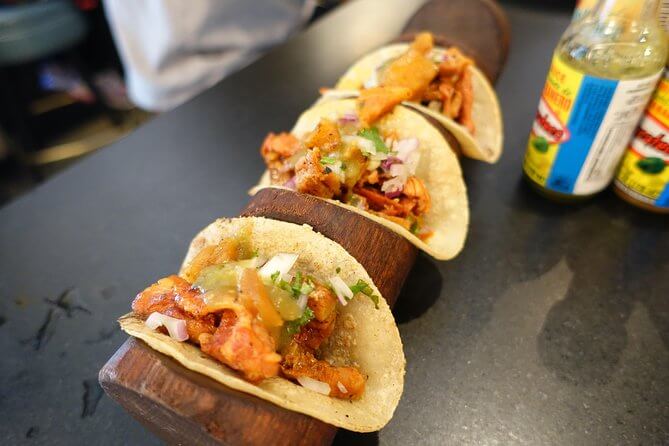 Where: Soho
Duration: 3.5 Hours
Includes: All food and drink, local foodie guide
Price: £125
This after-dark tour will give you a completely new perspective of the city. The streets come alive at night and the real fun begins. It's a great way to meet people and the tour often ends in an extended night out! This is the perfect weekend activity in London!
Try 9 delicious samples at 5 different tasting locations. There's everything from Spanish Jamón to Chinese dumplings, in this tapas-style taster session.
Explore London's international food scene in one of the trendiest districts around. A local foodie will give you the inside scoop on the best places to eat, drink, and party in Soho.
See the best bits of London illuminated by night as you explore everything from little-known cafes to some of the most popular local haunts.
Learn all about Soho's dark past from an informative local guide, you may be surprised just how it got its innocuous-sounding name.
Where: Spitalfields, Shoreditch
Duration: 3.5 Hours
Includes: All food and drink, local guide and tour
Price: £99
London's East End is a melting pot of cultures and a must-visit if you want to find the very best London foodie tours.
Explore the eclectic neighbourhoods of Brick Lane, Spitalfields, and Shoreditch in this top stomach-busting tour.
Explore Spitalfields Market, discover pop-up restaurants and food trucks in Shoreditch, and visit quirky cafes and top-rated joints Featured by Time Out London.
Visit some of the most renowned spots in the area with 10 tastings at 6 different locations.
Highlights include a traditional 'Bacon Butty', a top-rated salt beef bagel at Beigel Bake, artisan cheese, and the old British favourite, fish and chips at Poppies (listed as Time Out's top 100 foods in London).
If you still have any room, top it all off with salted caramel tart for pudding. Brits have a saying that there's a separate stomach for dessert, so you can never really be 'too full' for a sweet treat.
This area is well known for its diversity, in fact, that's the reason the food is so good! Don't miss a stop at the London Central Mosque to take a picture of the most religiously diverse house of worship in England.
Where: Notting Hill
Duration: 1.5 Hours
Includes: Chocolate making lesson, hot chocolate and water, 10 handmade chocolates (worth £18)
Price: £49
It's no secret that Brits have a sweet tooth. Ever since the dark colonial days, Britain has been importing sweet treats like sugar from India and cacao from South America to fill its ever-growing cravings.
But forget the mass-produced milky bars of the confectionery industry, chocolate is having something of a revolution in London.
Melt, London's most luxurious chocolate company, and their chocolate production kitchens produce the finest new-age chocolate around.
Before you get started with chocolate making, you will have the chance to taste some of the best chocolates from around the world.
Learn about the different percentages and origins from an informative guide. Find out about the bean-to-bar chocolate movement, and how it makes its journey from a plantation to a plate.
Of course, making the chocolate is the highlight. Natalie, a Ukrainian chocolatier, guides you through the process.
You get to create the perfect sweet treats right in the heart of the historic and beautiful neighbourhood of Notting Hill. The best part? You get to take ten of your very own handmade chocolates home with you.
Is This the Best Daypack EVER???
Final Thoughts on Food Tours in London
There we have it, some of the very best food tours in London. Treat yourself to traditional English bites like fish and chips, afternoon tea, and salty beef beigels.
And go mad on some of the best international cuisine in England, from 'Curry Mile' all the way to Soho Square. London's food scene is far from dull with all of these multi-cultural delights.
Live like a royal, and eat like one too, with these top foodie picks in England. You are guaranteed to expand your taste buds (as well as your waistline) when visiting the country's culinary capital.
And remember, in the wise words of the 'No Diet Club', you're on holiday so it's time to 'get thick'!
---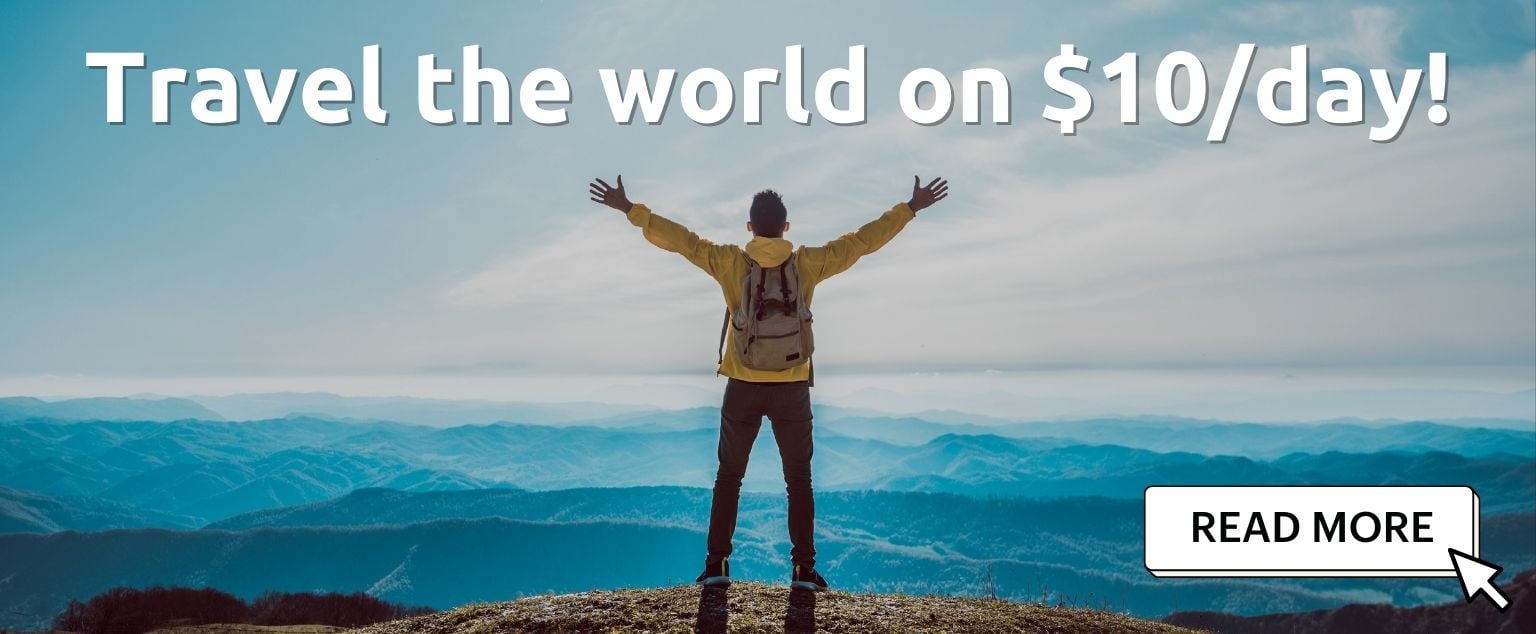 And for transparency's sake, please know that some of the links in our content are affiliate links. That means that if you book your accommodation, buy your gear, or sort your insurance through our link, we earn a small commission (at no extra cost to you). That said, we only link to the gear we trust and never recommend services we don't believe are up to scratch. Again, thank you!