Aotearoa: land of the long white cloud. Or… New Zealand! Land of Kiwis and hobbits. Oh, and amazing scenery that makes you weep.
The best experiences I've had whilst backpacking New Zealand have been when I was completely broke, hitchhiking, or meeting people who convinced me to ditch my plans and follow my adventurous instinct. Truly, New Zealand is a country kind to the penniless vagabond.
It may seem like an expensive country but (with a bit of imagination) it's possible to travel New Zealand on a shoestring budget. Broke adventures resulted in great stories, new friends, and unforgettable experiences. 
I landed in January with a year-long visa and felt a bit like Bilbo Baggins: it was to be a hobbit's journey! And what an adventure it has been backpacking New Zealand on a budget. I've spent more than six months exploring this INCREDIBLE land and here is all my knowledge in this neat little koha: the one-stop travel guide for New Zealand!
I'll go over what to do, where to stay, and how to travel in New Zealand cheap. By the end of this guide, you'll have everything you need for New Zealand. All that'll be left is buying a plane ticket and that dream campervan you've always wanted.
Because New Zealand was made for the vanlife.
Why Go Backpacking in New Zealand?
Made famous by the dramatic, unearthly scenery in Lord of the Rings, New Zealand is more than just an unbelievable movie set. Travelling in New Zealand is every outdoor enthusiast's dream. Made up of two islands, your adventures are infinite.
The two islands do stand in noticeable contrast to each other. It's fair to say that everywhere in New Zealand is mindbogglingly beautiful (except Auckland – curse you Auckland). That said, travelling on New Zealand's North and South Islands are two different experience. That's what makes deciding where to stay in New Zealand a real struggle.
North Island is much more populated (by New Zealand standards). There are a lot more developments and urban areas and while there are still many of New Zealand's beautiful places, it lacks the uncut, untamed, and unabashed glory we've come to expect from Aotearoa.
That's what South Island is for. Near empty of people by comparison – and it only gets emptier the further south you go – South Island brings New Zealand's best. Dramatic prehistoric scenery, endless oceans of sheep and cows, and the feeling of being outside of the world's chaos: South Island is the tits.
It doesn't stop there. Before I left backpacking for New Zealand, my cousin equated the landscape to biomes in a video game (weird, yes, I know, but bear with me). He was right.
Travel 100 km in New Zealand and the whole landscape changes. A rugged coastline turns into glacier country turns into Colorado-esque boulder playgrounds. New Zealand is a playground of wonderment.
Lots of New Zealand's attractiveness builds from its plentiful and well-guarded national parks. There is so much variety, however, that whether you're hitchhiking or planning a road trip, you'll need an itinerary… Or two! One itinerary to highlight the North Island, and the other to highlight the South Island.
You can easily combine both itineraries if you have a month or more to travel in New Zealand. Many travellers backpack here on a year-long work visa. If that is the case, you have plenty of time to explore New Zealand's beauty.
2-Week Itinerary for New Zealand: The North Island – Te Ika-a-Maui
This itinerary will start in Auckland. If you're a city person, you can definitely find plenty of things to do in Auckland – restaurants, nightlife, galleries, and nearby beaches galore.
This is also a great place to base yourself if you're making the trip to the Bay of Islands (north), the Rangitoto Islands just off the coast of Auckland, or Coromandel, slightly East. You can also make a trip to Hobbiton, the real live set they used to film the Hobbit wonderland in Lord of the Rings.
Then head to Rotorua, a geothermal hotspot (no pun intended) full of geysers, mud pools, and, yes, smelly sulfur. You can also engage with the indigenous Maori culture.
Further south you'll find Taupo and the epic Tongariro National Park. This is a great spot to bike and New Zealand's great walks.
Next stop: a stay in Wellington, the cool, hipster capital of New Zealand known for its food, drink, and art. If you're a wino, drive through Hawke's Bay Wine Country on your way to Wellington.
After visiting Wellington, loop back around to Mt Taranaki, a classic 2,518m volcanic cone. Then go to the Waitomo Caves: damp, underground tunnels home to glowing worms! Before getting back to Auckland, surfers should stop at Raglan, the hippy beachside slow-town of North Island.
3-Week Itinerary New Zealand: The South Island – Te Waipounamu
Get ready to be wowed. If you're backpacking New Zealand for nature, this South Island itinerary for you. Find a cheap place to stay in Christchurch, but then move on – Christchurch isn't worth a long visit.
Make your way to Kaikoura on the coast. Kaikoura is popular for whale tours and helicopter flights! If you're a wine person, drink up some Sauvignon Blanc at the Marlborough Sounds. Picton is a naint town to base yourself.
If these types of activities don't fit your budget, fear not, we're heading into nature soon. The best things in life are free after all?
Next Stop: Abel Tasman National Park. You'll think you're on a tropical beach (minus the temperature). Nearby you can drive to Whaririki Beach (pronounced 'Far-ri-ree-kee') – squeezed between Abel Tasman and Kahurangi National Park – and will take you through wonderful hippy-haven Golden Bay.
Drive through Punakaiki, home of the Pancake Rocks: a series of coastal cliffs that literally look like giant stacks of pancakes. Around these rocks are also several impressive blowholes.
Next is off to Franz Josef Glacier to witness the world's steepest and fastest moving glacier. After that, continue on for a stay in bohemian Wanaka, also known for its famous tree in the middle of a lake.
Wanaka is close to senstown and it's only a short trip between the two. When you're ready to leave darling Wanaka (never), travel an hour down the road and stay in Queenstown. New Zealand's adventure and backpacker capital there's heaps to do in Queenstown: ski in winter, hike in summer, bungee jump or skydive all-year-round, and party every goddamn night!
Saving the best for last, get ready to make the Milford drive to Milford Sound. After being gobsmacked by Rudyard Kipling's "Eighth Wonder of the World" over and over again, finish South Island in New Zealand's own Deep South.
Travel to the Southern Scenic Route and the Caitlins to see some astounding forests and windswept coastline.
Now that we've covered the travel itinerary ideas, we're going to discuss some of the best places to go in New Zealand. Read on for more backpacking wonders!
Backpacking Auckland
Most backpackers start in Auckland – it's the starting point for a lot of people travelling to New Zealand. This North Island city holds the majority of New Zealand's population and it'll probably be the busiest place you visit in New Zealand.
Auckland Central itself is just like any other Western city, perfect for picking up any last-minute necessities but spend too long here and you will drain your funds fast. It's busy and it's certainly not the best New Zealand has to offer, but it is worth noting that there are some beautiful places to visit in Auckland in the surrounding area (away from the CBD).
A lot of tours kick off from Auckland, like the Hobbiton movie set tour. You'll get to see Hobbiton holes first-hand, grab a drink from The Green Dragon Inn and drive through breath-taking natural scenery along the Waikato River. What would a trip to New Zealand be without taking a selfie in front of Bilbo Baggin's green door anyway?
Visit the sky tower for some views over the city, or kickstart your adrenaline by jumping off the top! If you are willing to get out of the city, there is plenty to do. The forests to the west are way more inviting than the city vibes or head to the North Shore for some beach time!
Backpacking Rangitoto and Waiheke Island
There are a number of islands around Auckland to explore and it's as simple as catching the ferry there! No need to book in advance; just pop down to the ferry terminal to buy your ticket. These two spots near Auckland are definitely worth the day trip:
Rangitoto Island ($36 NZD return) – A volcanic island off the coast of Auckland, Rangitoto is uninhabited by people and a reserve to some of New Zealand's native birds and bush. There are multiple hiking loops and plenty of cool caves to explore. Get to the top for sunset and enjoy panoramic views of Auckland and the sea horizon behind you. Make sure you take that last ferry back though or you'll be stranded.
Waiheke Island ($42 NZD return) – White sand beaches, beautiful vineyards, great walking trails, and incredibly blue water, this is the perfect place to spend a day. Eating out on the island is expensive, so I would recommend bringing a picnic or barbeque food, or cooking yourself and eating down by the beach. It's the perfect next place to go in New Zealand after Auckland to detox those concrete jungle feels!
Backpacking Northland
Before you completely bail on Auckland and start heading south, there's a whole region north of Auckland. It's kinda like Game of Thrones in reverse. Auckland is a big dumb wall (that ruins hitchhiker's days) and north of it, you have the land of eternal summer.
Although not strictly off of New Zealand's tourist spots, it is fair to say that it's lesser explored. There are fewer people up here and more empty space of some rather striking nature. It's kinda like the South Island of North Island. There's also more ice – I guess it is like Game of Thrones!
For a few of New Zealand's top highlights in Northland (on and off the tourist trail):
Whangarei – The last city you'll get heading north with a gorgeous surrounding area – beautiful beaches and a bunch of small but sexy mountains (it's not the size that counts).
Bay of Islands – Easily the biggest tourist spot in the north of New Zealand but with good reason: it's spectacularly beautiful with a lot of cool islands to explore.
Waipoua Kauri Forest – Did somebody say a 3000-year-old tree? The kauri trees here are magnificent and the giant snails ain't bad either (though he dead ones stink worse than Rotorua). Do note though, the ancient forest here is dying of the kauri dieback disease so follow all the guidelines.
Far North – Pretty much anywhere you go this far north is going to be a much less touristic New Zealand backpacking experience.
Cape Reinga / Te Rerenga Wairua – The almost northernmost point of New Zealand, there's like a whole section I could write on this magical place. It's arguably the most sacred place in all of New Zealand for the Maori people the air feels palpably otherworldly. Y'know, no spoilers: go find out the rest for yourself!
Backpacking Raglan
If it wasn't for an even more awesome hippy town coming up soon (in the south), this would be the top sticky place in New Zealand to visit for backpackers seeking those Byron-style vibes. This cute little hippie/surf town caters well to New Zealand backpackers.
It is touristy but it draws a good kind of tourist – the earthy backpacking joint-rolling kind. Raglan is known for being one of the best surf and kitesurf beaches in New Zealand and it has a great chilled out vibe. Most people around here will definitely be surfing (probs playing backgammon too) and everyone is keen to teach you how.
Surfboard rental is kinda expensive at about $20-$30 NZD for a half-day but if you stay at a hostel in Raglan, they will often have discounted lessons and board hire available. Definitely try meeting someone through Couchsurfing here; you will meet some wicked people who will probably have boards, boats, and kayaks that you can borrow!
Backpacking Coromandel
Only a two-hour drive from Auckland is the Coromandel Peninsula. There are loads of activities making this a wonderful weekend getaway.
The white sand beaches are pristine at New Chums Beach and don't forget to hike up to the overlook for epic views. Hot Water Beach, while not very scenic, is a fun experience to soak in natural hot springs oceanside during low tide. The Karangahake Gorge is very scenic and has some short walking tracks.
The best stop and a must-visit in New Zealand is Cathedral Cove. Come during low tide and preferably at sunrise or sunset. There are only two hostels in Coromandel, however, there are several campsites on the peninsula itself for around $10.
Backpacking Rotorua
Rotorua – or the town that smells like farty-egg-feet as most people will refer to it – is actually not as smelly as it is made out to be… Ok, that's a lie. But it's still definitely a must-visit place in New Zealand!
There is LOADS of geothermal activity here. This town is incredibly tourist orientated and backpacker-friendly – the main backpacker area of Rotura – the working side of town – is full of travellers! There are also heaps of New Zealand's adventure activities in the area making it a rival to Queenstown… except Queenstown doesn't smell like a fish's butthole.
I would recommend CouchSurfing here since the hostels cost quite a bit. If hostels are your only option, Rotorua Central Backpackers is an awesome one in the centre of Rotorua.
While backpacking here, check out the Wai-O-Tapu Thermal Wonderland for all things Geothermal. You can hire a mountain bike and take the trail to the park or pay for the shuttle service to take you there if you are in a less active mood. Entry to the park is around $33 NZD – slightly pricey but totally worth it and a must-do while backpacking New Zealand.
The Redwoods are incredible and you can easily spend a day wandering through the woods, and swinging on vines pretending to be Tarzan. The Green and Blue Lakes are a must-see while here, as are the hot pools. You will need a car to reach many of these places in and around Rotorua but hitchhiking is a snap in New Zealand.
Backpacking the East Cape Road
Take a road trip in the spring/summer around the East Peninsula of the North Island. It is beautiful and relatively unexplored by travellers. Rugged coastline, mountainous scenery, beautiful sunrises, and a chance to experience being off New Zealand's beaten track.
One of the must-do stops around the East Cape is the beautiful Te Kaha: a rural area with some of the most unique and friendly homestays! I stayed at the lovely Maraehako Bay Retreat for two nights.
Also in this area is the gorgeous Tatapouri: an incredibly small, local seaside town where you can feed Stingrays, tackle some of New Zealand's epic swell with your surfboard, and enjoy the view from horseback or a deckchair. Some sights to see around the East Cape include the East Cape Lighthouse, which is also the most easterly point in New Zealand.
You can also visit the Tolega Bay area, home of the longest pier in New Zealand and super fun to jump off of. There are heaps of activities along New Zealand's East Cape and the area is incredibly backpacker-friendly given its removal from the rest of the tourist trail; volunteering opportunities are high!
Backpacking Tongariro National Park
Skip ahead to see more of New Zealand's wealth of national parks in a later section, but this one deserves special mention. This park is New Zealand's oldest and is also a dual World Heritage site both for its geological significance as well as its spiritual significance to the Maori people.
Tongariro National Park on the North Island is one of New Zealand's most famous Lord of the Rings filming spots. It is home to the famous 'Mount Doom' and of course, the Tongariro Crossing – a 'Great Walk' one of New Zealand's best day hikes.
There are many LOTR filming locations around here as well as many alternative walks but not much else other than hiking (tramping) trails. Tackle the mighty Tongariro Crossing (19.4km ) and witness steam coming off the still-active volcano. If you're brave enough, follow in Frodo's footsteps and climb Mount Ngauruhoe (Mount Doom).
Taupo is a good base for exploring the park. It's a super beautiful lake and as an added bonus there are free hot springs to melt the weariness away after the walk! Head to the Spa Thermal Park.
Backpacking Mount Taranaki
The most picture-perfect volcano in New Zealand is Mount Taranaki; on a clear day, it can be seen from hundreds of kilometres away. This area of the North Island has some pretty amazing sights to explore and epic hikes. Climbing Mount Taranaki is one of New Zealand's harder hikes to do but the pay-off is well worth it.
For an easier hike than the summit, check out the Pouakai Tarns for a stunning picture of Mount Taranaki. Nearby in New Plymouth, the area around the Paritutu Rock is beautiful. Just up the coastline are two incredible places to explore during low tide.
The Three Sisters Beach and Elephant Rock, as well as the White Cliffs walkway, are some of the most scenic coastlines the north island has to offer. As with most major attractions in New Zealand, there are plenty of hostels in New Plymouth as well as other accommodations.
Backpacking Wellington
Backpacking around Wellington was my absolute favourite city-adventure in New Zealand. This funky place is great to spend a few nights resting your achy legs from the crossing. Set on the bottom tip of the North Island, you can take the ferry across the strait or fly to the South Island pretty cheap from Wellington.
The city is super warm and carries a real alternative-friendly vibe. Hippies, travellers, LGBTQ folks, lovable guttertrash… Welly carries a genuine feeling of acceptance that usually feels more like a pretend mask in a lot of other "progressive" cities elsewhere.
If you have the time or have that wonderful working holiday visa for New Zealand, Wellington is easily a place to stay for a while. The surrounding nature is dope, the city has a lot of cool happenings going on, offers many amazing hostels, and even in the central hub of the city there still manages to be a warm village feeling. Bumping into a friend randomly in the middle of the city is a given.
Any complaints? Yeah, the weather sucks in winter. Icy rains and 40km/h winds – fun!
Things to Do in Wellington
There are so many awesome things to see and do in Wellington. So much so, I just had to give it a little bonus section! Here are a few of my top 5 picks of what to do in Wellington:
Freyburg Pool and Fitness Centre – Excercise? Boo!
Na, this place is the best! It's right next to Oriental Bay and beach and it's $5 for sauna privileges. You know what that means? Hot-and-cold, baby!
Cuba Street – Any walk down Cuba Street is a solid day; street merchants, buskers, Wellington's night markets are there. There is a lot of BoHo(ish) shops along Wellington's Cuba Street and it's just something of a hub and focal point in the CBD.
Op-Shopping – Speaking of shopping in Wellington! The second-hand shops in Welly are kickass (actually, in New Zealand as a whole). Go find something colourful!
The Rogue and Vagabond – A neat little bar that has live music most nights of the week. The nightlife in Wellington is sweet with a bustling music scene but The Rogue and Vagabond gets some really eclectic and off-beat stuff!
Rent a bicycle – Wellington has this whole mountain city thing going one and mountain city's have the whole 'bombing hills at 120km/h without a helmet' thing going on. Getting back up is a bitch though.
Backpacking Tasman and Golden Bay
Starting off South Island now and it's a strong start!
The northernmost areas of the South Island of New Zealand where the smokeables are dank and plentiful and the sun is emotionally-available most of the year. This area of New Zealand is spectacular and easily one of the highlights for me.
Tasman Bay begins with Nelson which is a pretty city but a bit 'East Coast Australia' feeling for me. It's popular with travellers though meaning you'll find some good choices of backpacker accommodation in Nelson. Once you get a bit further north up to Motueka though, it starts to get real nice.
A top destination in New Zealand for Kiwis wanting to live the permaculture life (and travellers wanting to volunteer in it), with that comes the hippies and with that comes the endless swathes of smoke. Jokes aside, the area is gorgeous: gateway to the Abel Tasman National Park and some stunning beaches. Kaiteriteri is one of New Zealand's most beautiful beaches but touristy; check out Kina Beach for something quieter (with the $5 campsite next door).
Golden Bay just gets stickier. It's a bubble and I mean that in the best way possible. There's one road in and out over the mountains and it's safe to say that some people haven't crossed those mountains for a couple of decades.
Head to Takaka, a timeless little town, if you're looking to get embroiled in New Zealand's doof scene (hippy festival) or just wanna connect with some travellers of the grungier variety. They generally congregate down by the river. Don't worry: they're easy to find.
Backpacking the West Coast
The West Coast region of South Island is full-fucking-power Aotearoa – there are no there words for it. It's one of the most dramatic coastlines I've ever seen and I know that word is really overplayed but there simply are no other words I feel match it.
For me, it's one of the best drives in New Zealand. It doesn't actually feel like you're in the 21st-century anymore. You legitimately feel like a moa – the OG kiwi bird – might step out in front of your car and kamikaze-roadkill itself at any time.
Giant ferns leap out over densely forested cliffs, the weather is harsh and unforgiving (it ain't called 'The Wild West Coast for nothing), and every bend on the highway opens up to some new "Ooohh". Oh, and those sandflies will eat you alive – bring mosquito protection! Legend has it that the coasters of the sparsely-populated West Coast have developed a natural immunity to these foul devils…
If you can do the whole thing from Westport in the north through to Haast and beyond to Wanaka, you'll get a true sense of how special travelling New Zealand is. West Coast – an unmissable place to visit in New Zealand, no questions.
Must-Sees of the West Coast Region of New Zealand's South Island
Some must-visit spots on New Zealand's West Coast. There are heaps more than this… Hell, if you can handle the hormonally-moody rain complete with mood swings (a protective rain jacket is mandatory packing) and the blackened legions of flying itchy-bitchies, you could get lost in the West Coast's jungles for a bit.
Failing that, however:
Karamea – Actually north of the West Coast proper and comparatively less-frequented. There are beaches, caves, hot pools, and a backdoor entry into the Kahurangi National Park.
Punakaiki – Not much going on here but it is home of the Pancake Rocks and blowholes – a famous New Zealand attraction.
Franz Josef and Fox Glacier – Ahh, now this is the true tourist spot on the West Coast of New Zealand and one of the busiest areas you'll come across there (even comparatively to Greymouth – the largest town). I'm actually not a fan.
The glaciers weren't super impressive, and the prices in the area are all mega-jacked. HOWEVER, if you have the spare cash for a helicopter tour and hike on the glaciers, then you're in for a treat. A glacier is way more impressive from on top of it rather than a few kilometres away…
Hokitika Gorge – Super beautiful in its own right but the river (and river mouth) is an excellent place to go in New Zealand to find pounamu – that type of jade every single bloody Kiwi wears around their neck like they're in a secret club. (I want in!)
Just remember how sacred pounamu is. If you find one, then your pounamu has chosen you and that's your pounamu.
Blue Pools – Let's just say that that's no misnomer.
Backpacking Wanaka
Sweet darling Wanaka, oh how I adore you. If you were an Italian maiden, I'd serenade you from beneath your balcony (and then eat poison and die).
Consider Wanaka like a good Queenstown. Okkk, some people love Queenstown but it's super touristy and just a bit… backpackery (I know, I know, but you know the vibe I mean).
However, half an hour drive away is Wanaka, full of eccentric loveables, surrounded by the same gorgeous mountains of Queenstown, and still with a twinkling lake (complete with that famous tree). I would say that for anyone that Queenstown just feels like a bit much, stay in Wanaka.
There's no shortage of that uncut Otago region nature around Wanaka to explore Hiking Rob Roys Peak is a good start; it is crazy beautiful once at the peak. There is also no shortage of lake activities in Wanaka: joints by the lake, joints on a cruise on the lake, joints while kayaking on the lake. Hell, joints while abseiling down a waterfall!
The backpacker hostels in Wanaka are pricey (welcome to accommodation in New Zealand), however, there are some campsites around town… that are also kinda pricey. If you need to save some cash, Couchsurfing or sneaky camping is the way to go.
Backpacking Queenstown
Backpacking Queenstown – Oh, the home of adrenaline! Queenstown is known around the world as adventure capital and it does not disappoint. The list of things to do when planning a trip to Queenstown is never-ending. With so many travel and tour companies operating here, it's certainly the place to go for adventure travel in New Zealand.
A snow destination in winter with delicious icing-sugar powdered slopes, or in summer, it's the place in New Zealand for every other adventure activity you could think of: massive bungee jumps, hiking, white water rafting, climbing and mountaineering, and it's a top spot to go skydiving too! It's also a total backpacker hub.
There's heaps of nightlife in Queenstown, substance-galore, and no shortage of tourists of the 'young, dumb, and full of red-hotted ideals' variety. If that's what you're seeking, Queenstown is the perfect destination in New Zealand for it. It's also an easy place in New Zealand to find a backpacker job; a lot of people just spean a season of their working visa in Queenstown.
Even the cheap hostels in Queenstown are expensive, and the council has pretty rigidly clamped down on freedom camping of any description. A good alternative is staying out of town somewhere cheaper (Franklin, Arrowtown, or there's a free campsite at Cromwell) and hitching in.
Drinking and eating in Queenstown can be as cheap or as expensive as your taste makes it. The famous Ferg Burger is a must-do while not breaking the bank! Or you could head to Searle Lane Bar and enjoy cheap drinks and Pizza at happy hour! Oh, and for any nights out, pre-greasing the wheels is a must.
Backpacking Aoraki / Mount Cook National Park
The tallest mountain in New Zealand is…Mount Cook! And no, you cannot hike it. Well, you can, but you'll need some heavy-duty adventure gear, a strong sense of stupid-bravery, experience (it's a knife-edge point), and probably a parental permission slip too.
It doesn't matter though because Aoraki/Mount Cook National Park is another marvel when it comes to hiking in New Zealand, with some of the best tramping to be found. This national park is centre to the stunning Southern Alps mountain range that defines the South Island of New Zealand. The drive into Mount Cook National Park winds along the lake with several viewpoints and it's a very sexy approach.
Once in the park, there are two valleys to explore, the Hooker Valley and the Tasman Valley. The Tasman Lake was once a massive glacier that has receded several kilometres in just the last decade. The Hooker Valley Track is a wonderful easy 3-hour walk to Hooker Lake; glacier melt floats in the lake beneath the watchful peak of Mount Cook.
For one of the best hikes in New Zealand, head up to Mueller Hut. This popular day hike takes around five hours or plan ahead and book a night stay in the hut. These are the best views of Mount Cook and staying for sunset to see the last light on the tallest mountain in New Zealand is truly something special.
It is cold, so come prepared but staying the night in complete silence mixed with thunderous booms from nearby collapsing glaciers is incredible to experience. There are no hostels around Mount Cook, however, there are lodges in the village or paid camping is available in the park. Or head over to Lake Tekapo; stop and check out the Church of Good Shephard if you head that way!
Backpacking Milford Sound and the Fiordlands
An absolute must-do while backpacking New Zealand is visiting the stunning Milford Sound. Part of the Te Wahipounamu World Heritage Site, Milford Sound is the best known and most visited fiord and with good reason. As Rudyard Kipling called it, "the eighth Wonder of the World".
The Fiordlands of New Zealand is one of the wettest places on earth so, again, that rain jacket is a must. Moody, serene, and devastating all at the same time, Milford Sound is something you gotta see to really feel the scope – no written word and captured image can do it justice…
There is a number of ways to see the sounds. You can stay in the small town of Te Anau as a base: there are plenty of campsites, freedom camping spots, and camper parks here plus some hostels. Self-drive down and take in the incredible views; the drive is just as beautiful as the destination.
For getting out on the sounds, booking a cruise is the tourist-standard but a kayaking adventure is going to be way more adventurous! Or shit, just book a dive in the inky waters and go see it from below: Milford Sound offers some of the best diving in New Zealand as a whole!
There are also a couple of other spectacular multi-day tramps (and more of New Zealand's Great Walks).
The Milford Track (pre-booking the walk is almost a guarantee) is one of the most authentic ways to experience the sounds. Waterfalls, rainforests, and glacier-carved valleys are all there on this four-day hike.
Alternatively, the Kepler Track is another multi-day hike that will take you on a different journey to see a less-touristed side of the Fiordlands. One way or another, you gotta walk in this area. It's too damn pretty!
Getting Off the Beaten Path in New Zealand
It's totally possible – a few steps into New Zealand's overwhelming natural wonder just about anywhere is going to give those adventure feels. At the same time, it's New Zealand so you never quite get that feeling of being lost in an unknown and foreboding land – it's a good mix!
If you're looking to break away from New Zealand's tourist spots, the aforementioned far north and New Zealand's 'Deep South' are both excellent starts. I love that New Zealand has a deep south – it totally is too! Endless oceans of sheep, a slightly drawlier accent, and a lot of farmer life. That said, the people are still wonderful.
A few of the best spots in New Zealand's deep south are the Catlins Region and the Southern Scenic Route along the souths's coastline. It's hard hitching but well worth it for the payoff in the feeling of beautiful desolation and wildlife spotting opportunities.
Once you hit Bluff (the almost-southernmost point of New Zealand) you can catch a ferry to Stewart Island/Rakiura – Aotearoa's under-appreciated third island. There's like one settlement here and then nothing but unabashed and untouched nature. It's also the best place to go in New Zeland to see wild kiwis (of the actually feathered variety).
Dunedin is another city in the south that often gets overlooked by backpackers. It's an interesting city with Scottish architecture, an odd mix of conservative people and best-brand-weirdos, and a bustling student life. There's a whole local party scene with the students and a dope fire-dancing scene too – the best I found in New Zealand!
Arthur's Pass on South Island is another must-visit in New Zealand. Not strictly tourist-free but such a wild piece of Jurassic mountainous nature that it doesn't matter. Head to Castle Hill in the area for some of New Zealand's best bouldering (it's a goddamn proverbial playground)!
That, of course, is all the highlights of the South Island because that is the majesty of South Island – one giant rugged adventure! I'd say, however, if you're more looking to get off the beaten path in New Zealand in a cultural sense, volunteering is the way to go.
Volunteering with Workaway, WWOOFing, and everything else is extremely common in New Zealand; honestly, there's something around just about every corner. Any step into this life is not only a perfect way to backpack New Zealand on a budget, but it's also a great way to see the local life. Even just talking to strangers and expressing interest will often find you a host.
When it comes to what to do in New Zealand, the options are endless. It's not a large country but is absolutely bursting with wonder and amazement. These aren't all of New Zealand's must-dos by any stretch, but they are the pick of a few of my faves.
1. Tramp Like a Kiwi
You have so many options for hiking in New Zealand – legitimately endless. The wealth of huts to stay in on trails – both free and paid – make this only easier. Figure out what to take hiking, pack your pack, lace your boots, and go have an adventure!
2. Go Bungee Jumping
This is the country bungee jumping was invented in, after-all. With so many beautiful places to jump, you'd be a fool not to jump off a bridge! (Plus, this is New Zealand, so really you should feel safest here.) Queenstown is the go-to destination in New Zealand for yoyo-like fun but there are plenty of other jumps around.
3. Meet the Maori People…
Are truly spectacular. On a personal note, this isn't like the Aboriginals of Australia where a wall of division is immediately obvious (rightfully so given their despicable persecution).
The Maori people are incredibly open to travellers: bigass smiles and endless flows of conversation. Generally, I found they were also delighted to teach people about their culture, language, or just talk some shit so go meet them!
4. Find a Wild Kiwi: Gotta Catch 'em All!
Again with the Australia comparison, spotting a kiwi bird in the wild in New Zealand is the equivalent of a wild platypus in Australia. It's the holy grail and a total rite of passage so you better get (non-violently) hunting! Stewart Island is the top point of interest to check out in New Zealand but there are other hotspots too.
5. Splurge on a Glacier Heli-Hiking Excursion
Why nooot? I can't say that this is cheap, but it is one of those once-and-a-lifetime experiences. Besides, maybe you'll see a yeti!
6. Doof
Oh yes, the doof scene is cranking in New Zealand and the music is hella tight. From wobblin' psy to breaking D'n'B to some real funky glitchy bangers, hippies are boogieing everywhere (and the scene is super open to travellers). The Golden Bay area is the prime hotspot but parties in New Zealand are everywhere. Twisted Frequency Festival over New Year's Eve is the supreme cliff-jump into the rabbit hole.
7. Cycle along Central Otago
All you bikers out there have to get to this area to cycle along the Otago Central Rail Trail through beautiful landscapes and old mining towns. Balance the fitness with numerous historic pub stops or vineyards! And just as a side-not. the Otago region just so mwah!
8. Kayak the Milford Sound
I've just gotta make a second shout-out to Milford Sound because it is one of the most spectacular things to see in New Zealand. This part of New Zealand has beautiful waterfalls, staggering cliffs and peaks, and dark cobalt waters. It rains most of the year, so enjoy the moody vibes if you don't get a sunny day. Head out there on a kayak and your eyes peeled for seals and dolphins!
9. Drive around New Zealand in a Campervan
New Zealand and van travel lifestyle go together almost as well as New Zealand and an overwhelming sense of inner peace! This actually isn't as expensive as it sounds, and the best way to see New Zealand is by campervan!
You will need to have at least $3,000 to buy a van but after you're done backpacking around New Zealand, you can hopefully sell the van close to the amount you paid for it. Plus, a van will allow you total freedom in New Zealand and the ability to camp more versus staying in expensive hostels and hotels.
10. Live in New Zealand
Many countries are able to get a year-long work visa for New Zealand. This means you can work for several months, and travel afterwards with the money you saved up! If the opportunity to live in New Zealand is there, it's one of the best things to do; it's a truly magical place and a new home to many expatriated travellers who finally felt they'd found the place to settle.
Accommodation is not cheap in New Zealand; even hostels are expensive! In the 'high season' (summer and in some areas, winter) they will set you back by upwards of $35 NZD per night for a shared dorm. Only stay in backpacker hostels around New Zealand when absolutely necessary or your daily budget travelling in New Zealand is going to fall apart.
If you're looking for a paid room, sadly hostels still remain the cheapest option. You may occasionally stumble across a cheap place to stay somewhere in New Zealand on Airbnb, but it's still a limited selection. So how about saving money on accommodation in New Zealand?
Couchsurfing is widely used and a great way to meet new people and locals while backpacking in New Zealand. It does require some pre-planning though; the rock up in town and see what is around is not the best method for Couchsurfing.
Working for accommodation (and probably food too) is another excellent option in New Zealand. If you know you are going to be hanging around an area for a while, check with local hostels homestays if they offer some sort of bed and board thing. Workaway, again, is another great platform, as is WWOOF for farm-based work, or Facebook groups and even the local town notice board (legit).
Camping in New Zealand – free or otherwise – is the other cheap accommodation option. Tents, cars, and the vanlife is all a dream in New Zealand but it's not a cut-and-dry though so I'll cover camping in a different section coming up.
You'll find Kiwi's are incredibly generous when it comes to opening their doors to you and hitchhiking or meeting folks sometimes can end up in a bed or place to stay. Yeah, travelling costs in New Zealand are high but the country and people are also super kind to the homeless dirtbag. Generally, in New Zelaand, it always somehow works itself out.
Camping in New Zealand – Freedom or Otherwise
Ok, so here's the deal: New Zealand is (sometimes) seen as a golden freedom camping destination and that's becoming less and less true. A lot of campsites these days are not free or purely for self-contained vehicles i.e. has toilet, greywater, and sceptic waste functionality.
As a whole, travelling in a non-self-contained campervan in New Zealand is still possible, but you'll either be paying or aiming for free campsites (apps are good for sifting through the campsites) or paying. So, is freedom camping dead in New Zealand?
Na, not by any stretch. Even outside of just parking in a mate's driveway, rules (formal or informal) do change by region so it's still possible in many areas. For example, the Otago region cracks down hard on freedom campers courtesy of Queenstown's popularity but up in Golden Bay, they tend to turn a blind eye… mostly.
What about sans-car? Well, it's still illegal pretty much anywhere outside of designated areas, but that doesn't mean it's hard to get away with. Generally in a nice hidden spot, you'll be fine; just be discreet, pack up early, and leave no fucking trace or I will Freddy Krueger your dreams.
It is worth noting that you're always risking a heavy fine, but that's the bureaucratic side of things. Most Kiwis I met were all guns-ho a'blazing about a vagrant hitchhiker enjoying Aoteroa's land to the fullest. Hell, most of them would point me to the best local park to sleep in.
The long and the short? If you want to save on accommodation prices, pack some suitable camping equipment! It's a total necessity.
The Best Places to Stay in New Zealand
I made no solid plans for New Zealand. In fact, my research of the country pretty much consisted of binge-watching The Lord of The Rings and Hobbit films. And then the reality of the cost of travel in New Zealand hit me.
New Zealand is booming as a backpacking destination, courtesy of those famous setpieces for Lord of the Rings. Despite the backpacker boom, New Zealand is expensive. There are no two ways about it; Kiwis say it, Saudi Arabian princes would say it, Indians definitely say it!
That doesn't mean you can't travel cheap in New Zealand because you definitely can. I was able to travel on less than $10 a day, but you gotta get dirty!
A more realistic daily budget in New Zealand (for those that prefer their meals not to be harvested from the trash can) is about $20-$30 a day with the appropriate budget backpacking tools-of-the-trade. This is going to mean a mix of skipping accommodation, volunteering, hitchhiking, cooking, and going easy on the goodies – drink, drugs and activities. With those tricks loosely applied, you'll still have some budget-leeway for the good stuff.
Instead, at a more New Zealand backpacker holiday level (hostels, meals out, shopping, and whatevs else you crazy cats get up to), $60-$80 is more realistic. Yikes!
Looking at individual costs:
Food prices in New Zealand are expensive. You can cook budget meals definitely, but eating out always hurts and there's no cheap and local everyman street food (except arguably fish 'n' chips). Aiming for less than $10 a meal when eating out is a necessity for budget backpackers.
Accommodation prices in New Zealand suck smelly Rotorua egg-farts. You'll find cheaper hostels in New Zealand, but you'll never find a cheap one. You really never want to be paying more than $20/night for a dorm.
Transport costs between New Zealand's cities are not wholly unforgivable, but they're still expensive. Inside the cities is ok though. As a point of reference, the three-hour bus ride from Auckland to Rotorua will cost you between $20-$35.
Living the vanlife will help the costs, but the fuel prices in New Zealand are super yukky so it only goes so far. Usually, petrol prices hover around $1.30-$1,50/litre.
The good news is that, while there are a lot of expensive activities in New Zealand, there are also plenty of free ones. Hiking, going to the beach, bathing in hot springs, and visiting amazing scenery is just the tip of the glacier.
A Daily Budget in New Zealand
Money in New Zealand
At the time of writing (May 2023), 1 NZD = 0.62 USD. You can work this out as roughly $10 NZ being $6 US for the simple maths.
The money in New Zealand is super colourful and uncomplicated to manage. It's covered with enough pretty birds and vibrant colours that holding a stack of New Zealand dollars makes you feel like you're attending a rainbow parade!
Credit cards are widely accepted, and ATMs in New Zealand are pretty much everywhere: just watch out for international fees. Travel with a travel-specific debit or credit card to avoid these! If you're working in New Zealand, you'll be getting an NZ bank account regardless.
Travel Tips – New Zealand on a Budget
I said that backpacking New Zealand on a budget was totally doable, right? Well, it is! But you'll have to be creative.
After a pretty long stint in New Zealand travelling with no money, I've put together these kickass tips for travelling New Zealand on the cheap. It's the simple life.
Camping – A dire necessity but see the next section.
Couchsurfing – Although you can get by with a tent, Couchsurfing is a wonderful safety net for budget travellers in New Zealand and a lot of fun too!
Volunteering in New Zealand – Always a strong recommendation, especially in New Zealand. Days spent with dirty hands and full bellies are my spiritual Nirvana.
Cook your own food – Carry a top-quality backpacker stove on your backpacking trip to New Zealand, especially if you're camping. When you do have a kitchen available, cook up a storm!
Hitchhike – You already know how I feel about hitching, however, it's also a brilliant way to save on transportation costs in Australia. I couldn't have travelled New Zealand without it.
Busking – Much like hitchhiking and volunteering, New Zealand is where the busking madness began for me. Knowing how to busk and then a solid day's can definitely cover a decent chunk of your daily cost of travel in New Zealand.
Dumpster Diving – it ain't the fanciest, but it really does the job. You'd be surprised how many people throw away perfectly eatable food or trendy clothes.
Food giveaways – Are around and quite open to travellers (eg. The Free Store in Wellington). Alternatively, the Krishnas are bloody everywhere in New Zealand – haribol! From Auckland to Wellington to Dunedin they are always doing cheap meals, food giveaways, and probably yoga classes too.
Why You Should Travel to New Zealand with a Water Bottle?
Plastic washes up on even the most pristine beaches… so do your part and keep the Big Blue beautiful
You aren't going to save the world overnight, but you might as well be part of the solution and not the problem. When you travel to some of the world's most remote places, you come to realise the full extent of the plastic problem. And I hope you become more inspired to continue being a responsible traveller.
Plus, now you won't be buying overpriced bottles of water from the supermarkets either! Travel with a filtered water bottle instead and never waste a cent nor a turtle's life again.
December to February marks the high season (and summer) in New Zealand. These are the busiest months for the beaches, hiking, and outdoor exploration. There are plenty of festivals and events going on too. This is also the most expensive time to visit New Zealand.
The ski towns (Wanaka and Queenstown in particular) also experience high season in winter (June to August).
Your best bet for backpacking New Zealand on a budget is to visit during shoulder season, so March to May, and September to November. The weather is still great (although noticeably less great the further south you are), and you're going to get fewer crowds and better deals.
Outside of the ski towns, winter in New Zealand is a cheap time to visit as well, though the beach towns will be cold and sleepy. Northland and the Tasman/Golden Bay area stay pretty damn nice all-year-round though.
What to Pack for New Zealand
Make sure to pack right for New Zealand! On every adventure, there are six things to never go travelling without:
Oh, and bonus entry: pack sandfly protection and lots of it.
I almost feel silly writing about safety in New Zealand, considering New Zealand is consistently ranked as the most peaceful country in the world. Crime rates are extremely low and everything from sleeping in parks to hitchhiking is extremely safe!
Therefore, when we talk about how to stay safe in New Zealand while backpacking there, we are instead referring to the unpredictable weather that can hit when you're out doing adventurous things. Don't underestimate nature, keep updated about the weather (that shit turns quick), and invest in proper hiking footwear, relevant attire, and camping gear if you plan to be out in the National Parks a lot.
Secondly, the sun is strong in New Zealand – it turned my bloody hair blonde! The clear, unpolluted atmosphere and relatively low latitudes produce sunlight stronger than much of Europe or North America. Always stay sun-protected.
Thirdly, crime is low but dicks be dicks – I got my phone stolen in Raglan… two days after returning someone else's lost phone – Karma is a lie! Stay smart, especially on beaches, and travel with a money belt to protect yo' cash and goodies!
Oh, and watch out for the sheepies while driving.
Past that, there's nothing much outside of the standard safety advice for travelling anywhere. New Zealand ain't Oz: there are no snakes, like one spider, and even the derros waiting to roll you at the dodgy train stations are friendlier about it!
Sex, Drugs, and Rock 'n' Roll in New Zealand
Sex? Well, yeah, duh.
Kiwi girls are some of the most beautiful, friendly, and down-to-earth chicks you'll ever meet when backpacking. Typically they love to have fun, drink, and party, and it goes the same with the lads. If you be looking, you'll find a date no sweat.
As for drugs?
It's all there too, from deliciously dank bud to knockin' psychedelics to catapulting stimulants. It's all illegal, so be smart where and when you buy and take it, but everything is available (if expensive). New Zealand even has a pretty major crystal meth problem so that's fun! Bonus safety tip: stay away from meth ('duh, no shit sherlock' moment of the century).
Booze and cigarettes are expensive as you would expect in New Zealand. Cigarettes, however, are shockingly expensive: bring as many pouches of tobacco as customs will let you. And when it comes to a night out, you gotta pre-drink.
As a general rule though, there is a kickass party scene in New Zealand and holy shit the boogies are tight! Outdoors, indoors, club, pub, festival, or hippy throwdown, the music just ALWAYS seems to be bangin'. That's not something Kiwis half-ass.
Getting Insured BEFORE Visiting New Zealand
There may be no spiders, but there are still coastline-shattering earthquakes. Travelling without insurance is risky: do consider getting good backpacker insurance sorted before you head off on an adventure! Take a guess at how cripplingly pricey a medical bill In New Zealand will cost?
Much of The Broke Backpacker team travels with World Nomads and have been for some time now. They're easy to use, professional, and relatively affordable. They may also let you buy or extend a policy once you've started your trip and are already abroad which is super handy.
World Nomads' mission is to support and encourage travellers to explore their boundaries. They offer simple & flexible travel insurance, and safety advice to help you travel confidently.
They've been doing it since 2002 – protecting, connecting, and inspiring independent travellers just like you.
Get a quote below or read our in-depth review!
World Nomads provides travel insurance for travelers in over 100 countries. As an affiliate, we receive a fee when you get a quote from World Nomads using this link. We do not represent World Nomads. This is information only and not a recommendation to buy travel insurance.
The two easiest airports to fly into are Auckland on the north island and Christchurch on the south island. Wellington also gets some international flights but not as many as Auckland. Since New Zealand is an island (well multiple) you will have to fly here!
Auckland will most likely have the cheapest flights, and it's easy to catch a domestic flight from there to most any other airports in New Zealand. It's also worth noting that a domestic flight from Wellington to Nelson can cost as much – or sometimes less – than the ferry crossing.
Entry Requirements for New Zealand
The rules change a lot depending on where you're from but luckily the official site for visa information for New Zealand is magnificently designed. Suck it, India: that's a proper user experience!
I told you New Zealand was easy right? Well, a Visitor Visa is applied for online (for most nationalities) and is to be obtained before arrival. Entering as a visitor, you must have sufficient funds to cover your stay in New Zealand and onwards travel and you may be asked to present proof of said funds and onwards travel. Those things are always a 'potential scenario' though.
Alternatively, you can apply for a New Zealand Electronic Travel Authority and then once you arrive at Auckland's International Airport (it has to be Auckland for the NZeTA), you can apply for a proper visa.
A New Zealand Visitor Visa can last up to as long as nine months, but it is highly contingent on the variables, especially where you're from. After the allowed term, you can apply for another visa or even move to a student or working visa if you're looking at living in New Zealand.
So, what's the cost of a visa for New Zealand? Again, it's extremely nationality-dependent so you'll have to do your own research. It is worth mentioning though that a number of countries get visa waiver in New Zealand so also check when you're working through that oh-so-elegant UI.
Ok, so here's the deal. Travelling around New Zealand kinda sucks… or does it? (Foreshadowing.)
The best way to get around New Zealand is definitely by car… sorry! There are multiple rental companies within New Zealand and depending on your budget, there are endless options in regards to the type of vehicle you can rent. You can also buy a vehicle and then sell it at a later date (probably to another hapless New Zealand backpacker).
There are buses in New Zealand, but they're kinda hopeless (outside of public transport in cities which is more than serviceable). The intercity buses (conveniently named InterCity) are expensive: for example, $38 NZD, or the price of an expensive hostel, is the average cost to travel from Auckland to Wellington. Furthermore, for getting to the breathtaking points of interest in New Zealand (i.e. the reason you presumably came), you're shit outta luck!
You can generally find shuttles and other transport for the major attractions, however, as you probably guessed, they're expensive. So, about that car…
You can book a rental car for your trip to New Zealand before you even arrive so that it is waiting for you at the airport. Easy as! Booking ahead is crucial to ensuring you get the lowest price and your choice of vehicle.
Make sure you also purchase a RentalCover.com policy to cover your vehicle against any common damages such as tires, windscreens, theft, and more. It'll come out cheaper than you'll pay at the rental desk.
So, about that foreshadowing, hey?
Travelling by Campervan in New Zealand
It's the best way to travel New Zealand! This also extends to car camping to a lesser degree, but travelling by campervan in New Zealand is just the dream. I met more van-nomads in there than anywhere else in my travels. Paired with a longer stay or a working holiday in New Zealand, buying a van is just da best.
Backpacker cars and vans are seasonal. When a rush of backpackers arrives in early and mid-summer, the buying frenzy is on and prices go up. Likewise, just before winter, backpackers are trying to offload their vehicles, sometimes finding themselves without a buyer, and begging for a quarter of the price they purchased it for – off-season travel wins again!
When you're buying a car or campervan, your best option is finding a car on TradeMe. Facebook groups and backpacker forums have tons of cars but finding a good one is like finding a needle in a haystack. Prices can range from $2,000 NZD for a station wagon, $4,000 NZD for a whiz banger campervan, or up to $8,000 NZD for a high-end self-contained campervan. While a campervan is more comfortable for sleeping, a station wagon is a great alternative.
Make sure to get a vehicle pre-inspection, ensure it has a valid WOF, and run a vehicle history report to make sure it is not stolen or money is owed. When the time comes, say goodbye to your baby and sell her on (maybe even with a little profit).
A huge part of the attraction of backpacking New Zealand is exploring the truly gorgeous landscapes and making spontaneous stops. There is so much freedom in a vehicle and the portable home – and skipping on accommodation – is going to make for much cheaper travel in New Zealand.
Campervan Hire in New Zealand
If you are short on time or just want to make an epic few-week road trip around New Zealand, you can simply hire a campervan! Budget allowing, it's the best way to get around New Zealand – no contest.
So who to book with then? There are tonnes of van rental companies in New Zealand, however, I recommend Wicked Campers. They operate in a lot of places but their van game in Australia and New Zealand is strong. Plus, they've been around for yonks!
Check em' out and enjoy the shenanigans.
Hitchhiking in New Zealand
Yes, yes, a thousand times yes. This is where it all began for me. What started out as hitchhiking in New Zealand filled me with adventurous fire and led to many other journeys hitching (Japan, India, Israel, to name few).
You know who else hitchhiked in New Zealand too? My dead grandma! (…When she was alive, of course.) This is back in the bloody 1940s or something so, man, hitching across Aotearoa's magnificence is a two-thumbs-up recommendation and a blessed land for the beginner.
It's easy – developed Western country rules – and people are ridiculously kind. Kiwis that you never in a million years thought would pick you up will, sometimes accompanied by an offer of a bed or dinner. Better yet, they'll be heartwarming meetings and lead to the weirdest of most wonderful adventures.
There's not much country-specific knowledge required for New Zealand: I'll just point you to our Hitchhiking 101 Beginner's Guide as a crash course for the newbies or a refresher course for the vets. Cities like Auckland (the fucking wall) or Wellington can be a total pain but still manageable and even in the south-of-the-south, someone will eventually pick you up (though wait times can drag).
In summary? Do it.
Onwards Travel From New Zealand
Since New Zealand is surrounded by water, you'll be catching a plane onwards, and the choices are pretty straightforward.
Travelling to Australia is a no-brainer (unless you just came from there). It's another backpacker dream destination PLUS it's right next door (and usually so far away)!
Australia is another superb working holiday destination as well. Bless that obscenely high minimum wage!
Heading off backpacking to Southeast Asia is the other likely candidate. It's close by and it's way cheaper. If you're getting sick of paying a small fortune for a bowl of porridge for breakfast, consider Southeast Asia.
Any other suggestions? Yeah, one more and it's a cool one.
Since you're in the area, consider travelling to any of the Pacific Islands and continue exploring Oceania/Australasia/still-kinda-Asia. Though still touristy – especially with lads and laddettes from Down Under – they aren't so heavily backpacked. Plus, after backpacking New Zealand, you may just have a strong affinity for Polynesian cultures,
There are a lot of Pacific Island nations but as some brainfood:
I've already made reference to this numerous times but oh, man, most definitely. New Zealand is a land built for volunteering and backpacker work. Much like its sister country Australia, travellers from all over the world view New Zealand as a dream working holiday destination.
Expected localist crap and employers taking advantage of backpackers aside (which is minimal, to be fair), travelling and working in New Zealand is spectacular. The minimum wage is high – albeit slightly lower than Australia (but you can just consider that paying a premium to be in a better country) – and there are plenty of employment opportunities right around the country. And usually somewhere ridiculously gorgeous!
In fact, when I meet travellers on the road who are planning on visiting Australia for work, I generally just tell them to go to New Zealand instead. I haven't heard a complaint yet!
The most common types of backpacker work in New Zealand tend to be agricultural; following the picking trail with the seasons is very common. Hospitality gigs (cafes, bars, hostels) are also easy to get as is work in the tourism industry.
Most backpackers in New Zealand tend to find seasonal work in the tourist hubs – Queenstown and Rotorua, in particular – or major cities like Auckland or Wellington. That said, farms are everywhere as are orchards, and there always seems to be some work floating around. Even in the beach towns of Raglan and Takaka (which tend to be extremely localist as anyone from a beach town will tell you), I met plenty of travellers with a job.
Volunteering in New Zealand
But why work for cash when you get work for free! Yay for indentured servitude!
If you're going without a work visa and aren't a fan of pulling the sneaky, volunteering is a classic choice in New Zealand. A free bed and meal(s) is pretty much always a guarantee, and if your host isn't offering that, you'll generally find someone within a 30 km radius who is.
Of course, it's not just about the bed. The experience of volunteering while on the road is rather rewarding. All these years later and I STILL remain friends with some of the hosts I volunteered for plus I got some cool experiences to boot (like milking a goat!).
I already mention Workaway and WWOOF as the gold standards in New Zealand (as are more old-school means), however, a few Workaway alternatives rear their head including our bonafide favourite: Worldpackers!
Worldpackers is another volunteering platform we've reviewed and adore. They don't always have as many volunteering gigs in sheer number, but they do offer very substantial and authentic experiences plus a hold host of nifty community features that the fiercely impersonal Workaway lacks.
Hell, join the Worldpackers community as a Broke Backpacker reader (with the code BROKEBACKPACKER) to get a sweet discount on the signup fee – 20% off the annual subscription price. Churr, bro!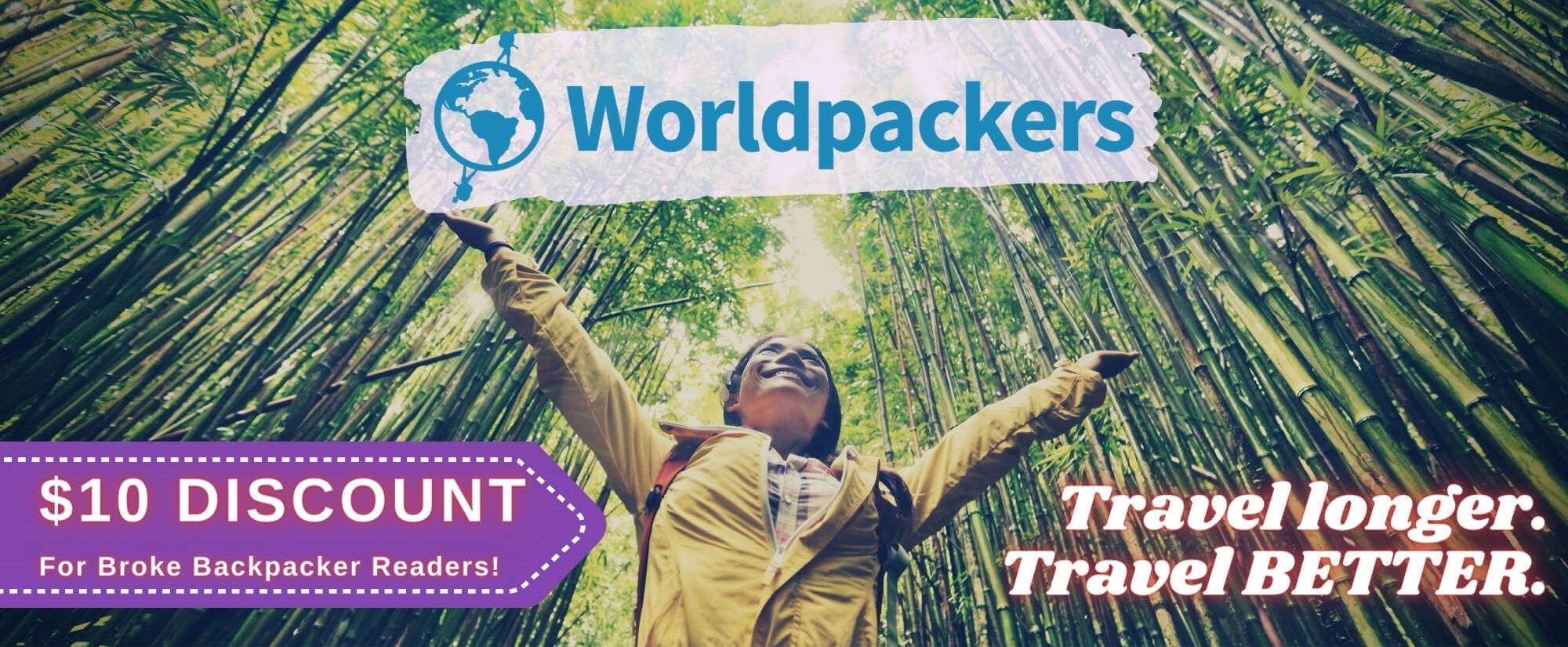 Worldpackers: connecting travellers with meaningful travel experiences.
Work Visas in New Zealand
So, about how to actually work in New Zealand? Many nationalities have access to a Working Holiday Visa in New Zealand. This will allow for a stay of up to 12-months, and you can work! (Legally.)
There are a few extra stipulations over a normal tourist visa, however:
Full medical insurance for the length of your stay.
For people ages 18-30 only.
Have at least $4200 NZ in funds available.
Again, the New Zealand Working Holiday visa fees and fine print vary by your passport's nationality. There's a lot of extra details to research, so some adulting will be required.
Y'know… Before you go to New Zealand and forget your adult responsibilities.
If you're finding all of this a bit complicated, Global Work and Travel may be able to alleviate some of the VISA complications for you. They offer working holidays and internship opportunities in many locations throughout New Zealand, both of which require the working holiday VISA.
In fact, they'll support you throughout the entire process; from VISA guidance to finding you the perfect placement. You've got to be between the ages of 18 to 35 though…apologies if this isn't you!
Internet in New Zealand
New Zealand allows you to be as connected or disconnected as you want. In the main towns, you'll find no problem to grab four bars of signal. However, wander out in the sticks and your signal will disappear pretty quick.
The cheapest and easiest way to stay connected in New Zealand is with a local SIM card. You can buy one at the airport or just wait until you're in town. You can expect good coverage in any built-up areas but don't expect too much consistency outside of that, particularly in rural areas and particularly on South Island.
The major providers of SIM cards in New Zealand are:
Honestly, they're all pretty comparable price and coverage-wise. I do recommend Spark though because they have a crapton of public phone boxes around the country which act as WiFi hotspots for Spark customers. You get a 1 GB allowance per day, they're seriously everywhere (like tuk-tuks in Asia), and one time while downloading Spotify playlists at a booth, I met some random legend and he offered me a ride.
WiFi is pretty common throughout New Zealand, and most hostels and homestays will offer WiFi. Free WiFi is offered at certain hotspots around cities, on buses, and in some cafes and bars, but you will often have a limit on time or download usage, so don't expect to Skype for long! Outside of busy urban areas, free WiFi becomes harder to find.
Maybe food isn't the first thing that comes to mind when you think of travel in New Zealand, but actually prepare to be amazed (at both the taste and your empty wallet).
New Zealand has both fresh seafood and produce markets throughout the country to get your breakfast on. You can find all sorts of dining experiences from simple yet hearty traditional Maori food, to a thriving coffee and craft beer scene (not to mention the world-famous New Zealand wine), to just the many damn delicious places to eat around New Zealand.
As Peter Jackson once described, "New Zealand is not a small country, but a large village." It's so true. Kiwis are always ready to help you out wherever possible, whether it is telling you about the best place to sit and watch the sunset while you devour fish 'n' chips, or driving you out of their way to get you to where you need to go (often with a parting gift of something dank).
New Zealander's pride themselves on their laid-back camaraderie for life and collective openness to strangers. It's fair to say that it's just a Kiwi thing. When travelling in New Zealand, I rarely, if ever, felt the cynicism towards tourists that I've felt in so many other places in the world; only a sincere desire to share their home
On my travels in New Zealand, I have been consistently amazed at just how kind the Kiwis can be – strangers will open up their homes to you or just check to see if you need some help. Sometimes, I didn't even have to hitch; people would just pull over and offer me a ride as I was walking out of town.
The Maori people, though obviously Kiwi and very much fitting in with the above statements, still retain their cultural identity, and it is a beautiful one. Family comes first but family is more than just your blood.
The Maori culture stands as something truly amazing to explore and learn about. If the opportunity arises to spend some time with them and make some Maori friends, take it. It"s 100% worth the experience.
New Zealand and all of its many peoples – from the colonial-heritage Kiwis to the Maori descendants to the many migrants that now call it home – feel harmonious. Things are not perfect, and neither is their history, but when put in comparison to nearby ex-colony neighbours, New Zealand's history is one much-less stained with blood and decrepit behaviour.
Non-Maori Kiwis on average possess a much higher level of respect for the indigenous people of their home. They want to share it, and it is heartwarming to behold. Put it this way:
Once while hitchhiking through the far north of New Zealand hitchhiking, a middle-aged woman driving her Down Syndrome child back to Auckland picked us up – two shoe-less, smelly, dirtbag-hippies. In her car, she was playing an educational CD teaching the Maori language.
That would never happen in Australia.
Useful Travel Phrases for New Zealand
So, English is the spoken language in New Zealand (officially) If you're reading this, you're presumably golden. That said, the Maori do very much have their own spoken language (on top of English) and it's not uncommon for a white Kiwi to know a few words… usually about three.
The left side is a few Maori words; the right side is some choice New Zealand slang:
A Brief History of New Zealand
While the Dutch explored New Zealand first, the British were the ones to colonise New Zealand in the 1800s. Prior to that, New Zealand – or Aotearoa- was only inhabited by the Maori people, a Polynesian people who settled sometime between 1320 and 1350.
The Maori culture is rich, vibrant, and fairly unique having developed isolated from other Polynesian cultures over many years. For many years, the Maori tribes engaged in regular warfare and combat was a vital part of their culture along with a deeply-ingrained mythology, dance, art, and numerous other things (shout-out to the poi spinners).
The signing of the Treaty of Waitangi in 1840 was supposed to lead to coexistence between the two peoples – indigenous and colonisers. Unfortunately, Maori came under increasing pressure to sell their land for settlement.
This led to conflict and in the 1860s, war broke out on the North Island. While the North Island experienced a series of wars, the less-populous South Island remained relatively peaceful with only one Treaty-related armed conflict.
Around the same time, many aspects of life on the South Island allowed New Zealand to flourish. The Otago region was experiencing a major gold rush, and Dunedin became the country's wealthiest city. Sheep farming was established on extensive grasslands and railways were built with towns springing up or expanding.
In 1893, New Zealand became the first country to give women the right to vote. State pensions and state housing for workers were also offered first in New Zealand and in 1907, New Zealand became independent.
New Zealand in Modern Times
In modern times, New Zealand has borne the brunt of conflicts similarly to much of the rest of the world, namely WWI, WWII, and the Great Depression. Despite this, New Zealand stands as an incredibly prosperous country and, rather pridefully, is considered one of the most peaceful on the planet.
Although Maori relations have struggled periodically over the years, noticeably throughout the 1970s and latter half of the century when protest movements began to arise among Maori people over land rights and recognition of the culture, many of these grievances have been settled.
There are ongoing concerns and nothing is perfect, but in the greater scope of the world's history, the largely positive relationship between New Zealand and it's first people is not only heartwarming but also worthy of respect.
There is a lot of beauty in New Zealand and a lot of things to see. Even more, there is a lot to experience. From the Maori culture to the Kiwi smile, there is a lot to pay attention to while backpacking around New Zealand more than just sunsets and touring Hobbiton.
Don't let New Zealand pass you by.
Hiking in New Zealand
If hiking is your thing, you will quickly realize why Kiwis throw on their gators and massive hiking boots to hit the mountains any chance they get.
The most popular hikes in New Zealand are the Ten Great Walks. These hikes have world-class infrastructure, comfortable huts, and are all good hikes for beginners. Hut reservations are required in advance, and bunks cost between $32 and $140 NZ per night depending on the hike.
Check out this post for a comprehensive guide on Nine of the Ten Great Walks of New Zealand.
While these are the most popular, don't be worried if you didn't score a reservation. There are even better treks in New Zealand! Getting into the backcountry, or tramping as the Kiwis call it, has advantages of smaller crowds and more serious hiking.
For experienced hikers, you cannot go wrong with your pick of:
Travers-Sabine circuit to Blue Lake
The Copeland Track
Or potentially one of the absolute best hikes in New Zealand, the Cascade Saddle
If venturing into the mountains is not your thing, it is still worth checking out some of the incredible day hikes around New Zealand. The best day hikes in New Zealand for beginners are:
Diamond Lake
Key Summit
Roy's Peak
For a more advanced hike, check out:
Mount Taranaki
Mueller Hut
Avalanche Peak
One way or another, everywhere you go in New Zealand, there's a walk worth doing. It's safe to say that some of the best hikes in the world are in New Zealand. Make sure you spend at least a little time getting lost in New Zealand's spectacular national parks.
Joining an Organised Tour in New Zealand
For most countries, New Zealand included, solo travel is the name of the game. That said, if you are short on time, energy, or just want to be part of an awesome group of travellers, you can opt to join an organized tour. Joining a tour is a great way to see a majority of the country quickly and without the effort that goes into planning a backpacking trip. However, not all tour operators are created equal – that is for sure.
G Adventures is a solid down-to-earth tour company catering to backpackers just like you, and their prices and itineraries reflect the interests of the backpacker crowd. You can score some pretty sweet deals on epic trips in New Zealand for a fraction of the price of what other tour operators charge.
You're almost ready to go soak in the natural beauty of amazing scenery, snow-covered mountains, active volcanoes, strangely friendly people, and maybe a few major cities. If you've still got some questions, here are some answers about the New Zealand backpacking experience.
We're almost at the end, ready to hit the road, hoist that backpack, and go to New Zealand – the adventure capital. Before you do, any last thoughts for the New Zealand travel guide?
Yeah, one more important thing.
Be Good to New Zealand
Travelling gives us a lot of opportunities. Sometimes, it's for the betterment of ourselves and the world. At other times, it's to just act like a twat.
Too many drugs, drinks, or just plain ego, we all mess up. I've messed up.
Some days we wake up on the wrong side of the bed. Other days we just miss home.
However, it's still important to remember to take responsibility for yourself and your actions on any backpacking trip, and New Zealand is no different. It's a privileged, rich, and Western country, sure, but it's still important to treat the land and the people that belong to it with kindness.
Smile, be kind, show an interest in the culture: no one forced you to be there. You've chosen to enter someone else's home as a visitor – be respectful.
Take off your shoes, don't use up all their toilet paper, and be good. Nothing says it better.
Now You're Ready to Go To New Zealand!
That's it, all the info you may need… more or less. Truly, backpacking in New Zealand is an unforgettable experience.
This outro is an update for our New Zealand budget travel guide written by me, two-and-a-half years since I travelled in New Zealand. I still miss it.
New Zealand taught me a lot of things. It taught me how to travel and how to travel well. I now believe in the goodness of people and the beauty of life. New Zealand taught me to love life.
A lot has changed since those simple dirtbaggin' days in Aotearoa. I've changed, the world has changed, and travel changes, but New Zealand hasn't – not so much. It's still one of the most gorgeous places on this beautiful and complicated planet.
I don't go so much in for the hippy-dippy spiritual stuff anymore, but New Zealand deserves it. It's a truly special home, and I genuinely believe there is healing in that land. There is magic there.
If you're going Backpacking New Zealand, budget travel or a holiday, I bid you the very best time. Keep this travel guide handy and see the best of New Zealand. If you choose to settle, you wouldn't be the first.
Hell, maybe I'll see you there one day. Love and light to you. Did I really just say that?
Dammit, New Zealand.
Updated: February 2020 by Ziggy Samuels at ZiggySamuels.com.
Updated May 2023 by Laura Hall.
---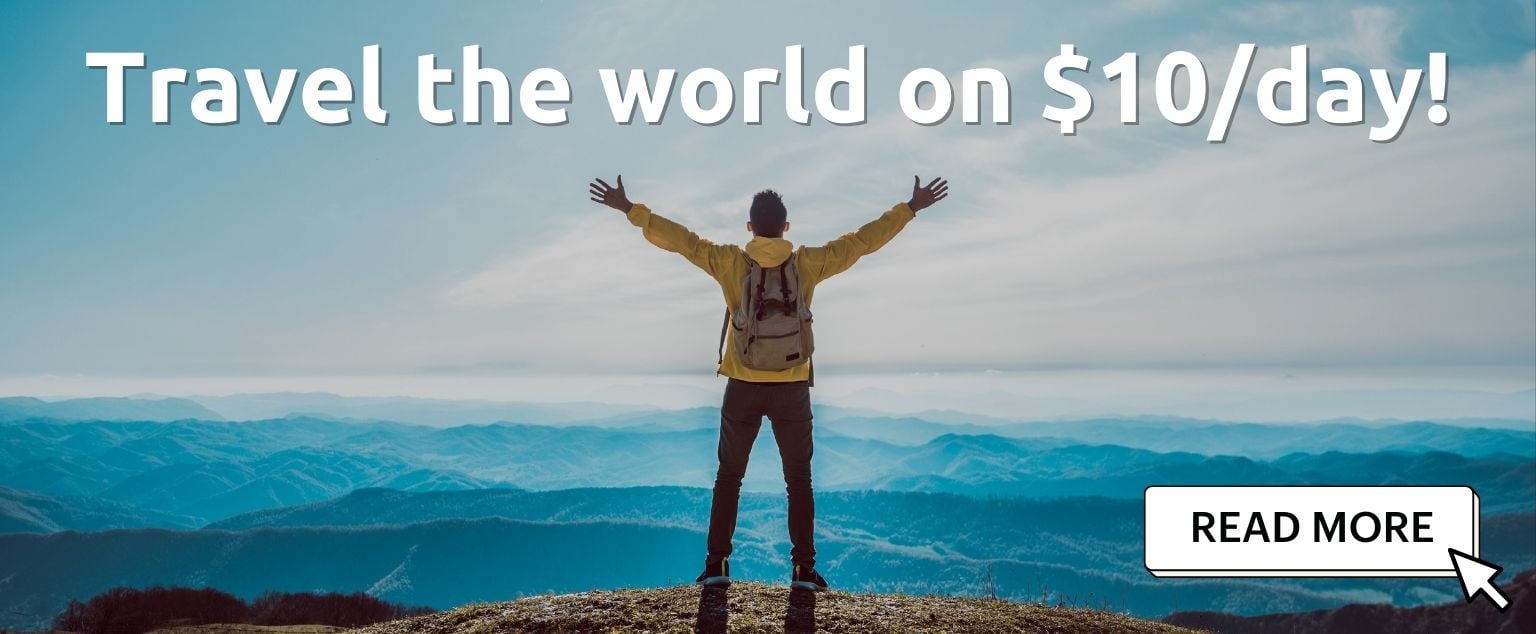 And for transparency's sake, please know that some of the links in our content are affiliate links. That means that if you book your accommodation, buy your gear, or sort your insurance through our link, we earn a small commission (at no extra cost to you). That said, we only link to the gear we trust and never recommend services we don't believe are up to scratch. Again, thank you!